Once, when it was time for the clocks to go back, I got up on the kick-step, took the Departmental office clock down and changed the time. As I was getting off the kick-step, I twisted my ankle very slightly. Noticing my limp later in the day, my boss asked me how I acquired it. 'Ah', I was told, 'No. You either have to call someone from maintenance to get up on the kick-step and change the clock. If you want to do it yourself, you have to go on the Ladder Awareness course.' Further conversation established that i. this wasn't a joke; ii. I was only being let off filling out the Accident At Work form because neither of us could be bothered with the resulting paperwork (my ankle was fine the next day); and iii. I simply couldn't bring myself to call maintenance twice a year every year to ask them to adjust a fucking clock.
The Ladder Awareness course was astonishing: that it existed at all; that it was three hours long; and that it contained only one take-home message, which was that when ascending a ladder, kick-step or other elevating device, we should under no circumstances wear high heels and tight skirts. The people in the room were as follows: the earnest chap teaching us, who was wearing a pair of those slightly shiny trousers that make a noise like a tent being unzipped when the legs brush together, and eight Departmental administrators, including myself. The other seven were middle-aged, dressed in sensible shoes and called Doreen. We sat in stony silence as he paced around, trousers threatening to burst into flame, occasionally gesturing at a tiny bit of truncated ladder propped pointlessly against the wall. Later, we each climbed up and down it to demonstrate that yes, we could go up and down two steps without injuring ourselves. Yes, we are now fully aware of ladders. Yes, we can all successfully complete your tedious quiz, the first question of which was 'When a task that requires someone to go up a ladder needs to be performed, is it acceptable to ask a student to do it? Yes/No'.[1] Yes, we promise to forgo our usual attire of stripper heels and mini-skirts. Yes, we would like to fill out a feedback questionnaire. The first question on the feedback questionnaire is what I want to apply to the EU referendum: 'On a scale of one to five, how much have you learnt today?'
Firstly, some voters[2] seem to have learnt that their vote made a difference to the overall result. This blows my mind. First of all, everybody's vote made a difference to the overall result. In a general election, it could be argued that my vote for the Green candidate in a staunchly Conservative constituency didn't matter, because the majority of people in my constituency voted such that my vote had precisely zero influence on the final result. In a single-issue referendum, however, every single damn vote matters, regardless of how or where you voted. Secondly, I know everyone is either very angry or very smug (or, in the case of multi-tasking racists, both) and I don't want to make that worse by calling people names. However, I can't help feeling that everyone currently experiencing voter's remorse has only themselves to blame.[3] What can you possibly say to someone who waits until the day after the vote to frantically Google 'Jesus Christ, what the fuck is the EU?', or who really, truly believes that Boris Johnson (who was sacked by a national newspaper for making stuff up) is an honest chap, or that the Sun is an impartial source of balanced and nuanced information?[4] I cannot comfort someone who muttered 'good point' when Nigel Farage urged us to take back control from people who haven't been elected, when Nigel Farage isn't even an MP.[5] The protest vote argument is the most laughable: if you voted Leave as a protest vote and now wish you hadn't, what you are really saying is 'I thought responsible voters would save me from myself.' I have absolutely no sympathy for those currently wailing, 'How could I possibly have known that a vote for Leave could lead to an overall majority of Leave votes?' If you didn't think anyone would take your vote seriously, why did you vote at all? Do you even understand what voting is?
It's important to teach people (the hard way if necessary) that yes, your vote does matter and yes, you need to do your research and at least some thinking before you decide how to vote, rather than simply turning your existing prejudices and fears over in your mind. That sounds like it's aimed at Leave voters, but of course it isn't: since we have a secret ballot it could apply to anyone, and any vote. I also think there is something very dubious about the idea of re-running referenda/elections etc. until we get the 'right' result (especially as they aren't actually legally binding). For one thing, political campaigns are really boring: the last four months have seemed interminable, with two lacklustre campaigns mangling the issues, until everyone just throws up their hands and says, 'fine, yes, alright! I honestly don't care anymore – just stop going on about it!' Personally, I'm furious so much of my time has been wasted. I thought hard about my vote and I listened to the views of people that know more than me i.e. even more Radio 4 than usual (including, God help me, two editions of Moneybox). My carefully-considered vote counted the same as the vote of someone who rolled out of bed and put a cross in a box because he once had a Polish builder he didn't care for. It counted the same as the vote of the person who called me a 'liberal wanker' on Facebook this afternoon after I commented that he must be very proud to have voted for the winning side (his stated reason for doing so was that he was fed up with Brussels 'interfering with bananas'). It counted the same as the vote of the person who described me as a 'xenophobe' because I pointed out that voting Leave meant voting alongside racists, and that I thought that was very dangerous. I chose the word 'alongside' very carefully (more carefully than he chose the word 'xenophobe', anyhow), and was still misunderstood. On Twitter this morning, I saw this: 'Of course not all Leavers are racists. That would be a terrible thought. But all racists now think 52% of the population agree with them' (I was going to amend this slightly with square brackets, because 52% of the people that voted voted Leave, not 52% of the total population, but on reflection I'm going to let it stand because I think 52% of the population is probably closer to what the aforementioned racists actually think).
If you're experiencing voter's remorse, understand this: when you cast your vote, there isn't a free-text box where you get to explain why you voted the way you did. That means we can't differentiate between people who voted Leave as a protest of some kind, people who voted Leave because they have legitimate concerns about the EU, and people who voted Leave because they're racist. Similarly, we can't differentiate between people who voted Remain despite David Cameron and George Osborne urging them to do so, and people who voted Remain because they think Cameron is a fine statesman and that, despite appearances, Osborne is not at all a human weasel.[6] A cross in a box is not nuanced information. You may wish to convey something complex with your vote; you may even believe that you're doing so, but that's not how voting works. You were asked, clearly and specifically, about Britain's membership of the EU. Answer the question you were actually asked, moron.
While I'm utterly horrified at the result, the potential break-up of the United Kingdom (with both Scotland and Northern Ireland on the table) and the legitimisation of racism, I'm also very dubious about the idea of a second referendum. Yes, there is voter's remorse, but there also seem to be many people becoming even more certain of the position they already hold, and even more contemptuous of the other side. If we were to have a second referendum in (say) two months, would the country bear the collective weight of being so unutterably bored and divided all over again? A second referendum would be no more legally binding than the first, because referenda are not the same as laws. For us to leave the EU, both Houses of Parliament still have to vote on the relevant legislation, a situation not dissimilar to our regretful protest voter hoping someone more responsible (Parliament? Really?) is going to ride to the rescue. And yet, it's also very important that we don't tolerate misinformation and lies, particularly in political campaigns that actually matter. Does that also mean we shouldn't wear the results of votes in which the public were misled? Some of the misinformation was clearly very misleading and very persuasive. For example, the figure of £350 million per week being 'sent' to the EU quoted by the Leave campaign has been debunked many times (I also question the use of the word 'send': I don't 'send' dinner from my kitchen to my house, since one is inside the other). Now that Leave has won, and the falling pound has wiped several times that amount off the value of the UK economy, we get to see IDS et al. saying, as nonchalantly as they can, 'aha, yes, well, I never actually used that figure'. Rode around on the bloody bus, though, didn't you?
Secondly, here's something else I learnt from the referendum result, and it really pains me to say it: Michael Gove was right when he said people had 'had enough of experts'. Mervyn King said in an interview on The World at One that he thought people didn't want to be told what the former head of the Bank of England thought about Britain leaving the EU, but rather wanted some proper facts and figures so they could make up their own minds. He then refused to give his view either way, saying it would take at least two hours to give a properly balanced answer ('Please', I begged the radio, 'give him two hours of airtime to do that, then!'). The following, from a book that has nothing whatever to do with politics, captures it nicely:
We are obviously going to present our view, but our overriding desire is to engage you via the evidence in a debate that is very much ongoing across several research communities, rather than simply convince you that we are right.[7]
People should make up their own minds, and they should listen to expert views while they do so, and then form their own view on the basis of the information presented to them and the expertise of the person presenting it. This is surely the fallacy at the root of all celebrity endorsement. Mervyn King's view of the EU is important, well-informed and maybe even interesting, and I stand by all of those descriptors even though I don't know what his view is. Can the same be said of David Beckham?[8] Moreover, seeking expert views is something we do as a matter of routine. We seek other people's opinions when we buy anything from a house to a compost bin; we read and write reviews (see Iron Get Hot Now); we Google everything from individuals to cities. Seeking advice from people who know more than you do is a sensible, commonplace act. For example, if I was asked to (say) write an essay on economics, the first thing I would do is read the work of some economists. I've picked economics because a. I know very little about it; and b. it's a discipline in which it is normal for experts to disagree violently with one another. Therefore, I would approach each expert view with a critical eye, thinking all the time about forming my own view, but also aware that I was becoming more informed as I went along, and therefore more qualified to express that view with confidence. I'm not arguing here that people who haven't bothered to inform themselves about a given subject shouldn't be allowed to vote on it; rather, I'm pointing out the cognitive dissonance in Gove's position. He is suggesting that, because there were economists who failed to predict the crash in 2008, it is reasonable to ignore all economists. He is suggesting that it is legitimate to make uninformed decisions. If that's what voting is, we don't need four months of dreary campaigning: we just go into the booth, pretend we are characters in Yellow Submarine and pick YES or NO on general principle. I have even seen a couple of people stating defensively on social media that they 'didn't listen' to any of the referendum coverage (how? It has been day and night for all of eternity) and voted based on 'what I thought was right'. These are people who are actually proud of how uninformed they are, and how little opportunity they allowed themselves to have their views challenged, shaped or finessed by people who know more than they do, including people who agree with them.
How I rejoiced when Farage failed (again) to win a seat at the last general election! A terrible overall result, but at least Farage is going to go away and shut up, I thought. No such luck.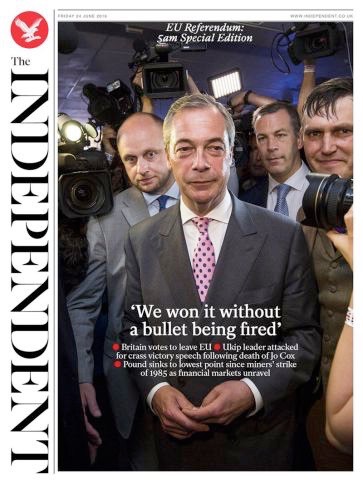 Non-Member of Parliament Nigel Farage
Non-Member of Parliament Nigel Farage says and does appalling things as a matter of routine. See, for example, his statement (above) that 'we won it without a bullet being fired', which I would have thought was the minimum requirement, and, oh yes, there were those bullets that killed Jo Cox MP on the same day as Farage's hateful pseudo-Nazi 'breaking point' poster was unveiled, something he described as an 'unfortunate' coincidence. For other people, one comment like that would be the end of their career. Trump, Gove, Johnson, Farage and the like get away with it because they aren't appealing to people's thoughts, but their feelings. Farage tells people who already agree with him yes, the 'feelings' you have are totally valid: membership of the EU does somehow make your local hospital a bit crappier, your policemen scarcer, your child's school crowded with African refugees and your road bumpy and full of pot-holes. It seems to me that whether or not there is a causal link between the EU and your local woes, your feelings on the subject are really neither here nor there until you have some actual data. What Farage et al. have achieved is to state out loud, in public that the data is neither here nor there, and feelings are everything. Are people like Farage and Trump[9] very clever, then, or are the people that listen to them very stupid? The point is that the question is irrelevant: they don't need to be clever. They just need to be slightly cleverer than the people who think they agree with them. Farage has run for election to the House of Commons seven times, and every time he has been unsuccessful. This shows that he doesn't need to be right; he doesn't need to be elected; he doesn't even need to be important. He just needs to sound absolutely certain that he's all three.
The third and final thing I have learned from the referendum is that I have no idea why people vote the way they do. We ask people to vote, but as I pointed out earlier, we don't ask them why they are voting the way they are (and as I'll argue below, I'm not sure people can articulate why with any great accuracy). Further, because we don't know why people voted the way they did, the data we do have can be interpreted and/or manipulated in any number of ways. For example, we can point to the suggestion that more educated people tended to vote Remain, and conclude that 'being educated causes you to vote Remain', but that's not a strong inference. It may be that people with a degree are more likely to have met large numbers of young, well-educated, articulate and charming foreigners during their time at university (I certainly did), and therefore think of 'migrants' in completely different terms to someone living on a council estate in central Leeds surrounded by people speaking Foreign. It could also suggest any number of other things. My father pointed out that many people in his age group appear to have voted Leave, but that doesn't mean their age necessarily has any relationship with that decision. This morning, Radio 4 reported on 'David Cameron's analysis of the referendum data' and really, I'm dying to know: what analysis? What data? The people may have spoken, but I think mainly what we said was, 'wait. What? WHAT?'
Similarly, notice how quick everyone was the morning after the 2015 general election to tell us that Labour had failed to engage their core vote; that David Cameron energised somebody or other by rolling up his shirt-sleeves and taking off his jacket; that the polling was misleading (remember that, before it disappeared into the maelstrom of news with barely a ripple?), and so forth. When the general election in 2010 resulted in a hung parliament and then eventually a coalition, journalists informed us ruefully that, 'the people have spoken', forgetting that 'I'd like a hung parliament, please' wasn't on the ballot paper. In the 2015 general election, within a few hours of the result Labour politicians were giving interviews about what Labour had done wrong and what they needed to do differently, when they simply didn't have sufficiently sophisticated data to know any of that. They spoke as if their ideas were self-evident, and yet somehow not self-evident enough to have occurred to them before the election. The Conservatives responded to UKIP's pre-election campaign by attempting to appease potential UKIP voters, banging on about immigration even more than usual, and promising the referendum we've just had. However, I think it's worth noting that UKIP won one seat in the last election, and 3.9 million votes. The Green Party also have one MP, and around 1.1 million votes, which is very nearly as many as the number of votes for the SNP (1.4 million, resulting in 56 seats). Of these three smaller parties, only UKIP and the SNP are taken seriously. Nobody responded to the Green vote by saying 'crumbs, we simply must include more environmental measures to appeal to all the people that voted Green!' and there is absolutely no suggestion that we should take the Lib Dems or their voters seriously (2.5 million votes and eight seats). I suggest that this is because the Tory party (and the dominant voices in the media) chose to interpret these data as 'we simply must talk more about immigration and the EU' and shuffled to the right in order to engage the 3.9 million UKIP voters, when they could just as easily have interpreted these data as 'we simply must talk more about the environment and social issues' and shuffled to the left in order to engage the 3.6 million Green and Lib Dem voters. I suggest that, much like the voters, politicians use data to confirm what they already think, to justify decisions they have already made, and to stay in their comfort zone. It seems that the two main parties are more interested in reinforcing the existing views of 'their'(?) existing voters, rather than gaining new ones. Also, I conclude that Tories don't care very much about the environment or social issues (and are very bad at pretending they care about these things); they do care about immigration and the EU, and so here we are.
Going through old teaching notes from Shanghai, I find the following statement on a mock interview for PPE:
Caroline comments that she thinks Russian voters expect masculinity from their political leaders. She illustrated this point by quoting a Russian friend, who said, 'I saw him [Putin] with his shirt off on a horse once and I liked it.'[10]
Google 'Putin on a horse' and you will get 394,000 hits. And yet, I'm sure that if that same Russian friend was asked by (say) a journalist why she voted for Putin, she'd say something politically relevant (about foreign policy or whatever) so that she didn't sound like a moron.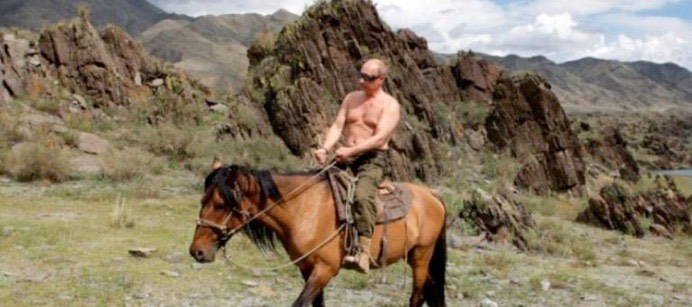 Putin started by rolling up his shirt-sleeves and taking off his jacket as per Cameron. The horse is thinking, 'well, that escalated quickly'.
Do we actually have any reliable data that tells us why people vote the way they do? I like to get my information from the radio, and recycle newspapers, leaflets and copies of The Watchtower that come through the door without reading them. During elections and/or referenda, I only answer the door to the postman, because I work from home and don't have time to debate politics with the local BNP candidate (actual example. The conversation ended with me telling him to fuck off back to wherever he came from). The point is that I've literally no idea if that's typical. I've seen several friends on social media who were very active in the Remain campaign saying that they wish they had done more, but would it have made a difference? We behave as if leaflets, picking off voters one by one on the doorstep, interminable interviews on TV and radio, newspaper opinion pieces and sharing thoughtful videos and statements on social media are persuasive. Are they, or do they merely confirm the views people already have? Also, I think I know what caused me to vote Remain, but do I really? I think I voted Remain because I don't like being lied to, and I felt the Leave campaign was lying to people; because I love Europe and think other Europeans should know that; because I think, given our history of empire and war-mongering, we should take more (way, way more) refugees than we actually do; because, much as I dislike doing things that make David Cameron and George Osborne more powerful and smug, I dislike that less than doing things that make non-Member of Parliament Nigel Farage more powerful and smug; and finally because it seemed to me that a vote to leave was also a vote for the break-up of the United Kingdom. If I was asked to give my reasons for voting as I did, that's what I'd say, but it may be that my real unspoken reason is that I was at school with people like Boris Johnson (by which I mean financially comfortable, male and mediocre) and resented their assumption that they were entitled to rule the world. For many of these people, this sense of entitlement was so strong that they didn't bother with trivia like homework or preparation, an attitude we can see in everything Boris Johnson has ever done. Look at his face. Read his terrible column. He doesn't have the faintest idea what to do next. According to his Wikipedia entry, Boris Johnson lost his wedding ring an hour after getting married and, for all his spoutings about immigration, was born in New York and has US citizenship. I suggest that this is not a man who thinks things through. Contrast the panicky, 'tired', bumbling Boris Johnson with Nicola Sturgeon, currently zipping around Europe being a sensible, calm leader, who actually had the sense and humility to make a fucking plan.
In my upper sixth year, my Cantonese boyfriend was chosen as Head Boy, and I remember being told (by someone who clearly thought he, a white, blond rugby player of very little brain, would have been a better choice) that my bright, kind, thoughtful and hard-working boyfriend shouldn't be allowed to be Head Boy, because he only represented the Chinese students. When I pointed out that there were more Chinese students than there were girls, i.e. they were a sizeable minority, I was told there was no need for a Head Girl either, precisely because we were in the minority. Note that the objection was not 'I'd be a better Head Boy because x' or 'I wish I'd competed better', but 'this shouldn't be allowed' i.e. the system had delivered a result he didn't like.[11] Note also the cognitive dissonance: if you choose a Cantonese representative from a mixed gender, mixed race (i.e. white/Cantonese) group, he only represents the Cantonese males. If you accept that premise (and I don't think you should), the suggested solution can be glossed one of two ways: either (a) 'a white male represents everyone in the group regardless of whether they are white or male themselves'; or (b) 'a white male only represents the white males in the group. That leaves both the Cantonese and the girls in the group unrepresented, but fuck minorities'. Let's be clear: the group the aforementioned blond rugby player wanted to protect from the perils of under-representation was privileged white guys. Boris Johnson reminds me strongly of this boy, and I struggle to think of anything that might persuade me to vote alongside (or for) Boris Johnson.
If we really want politics to become more responsive, more informed, more interesting and less territorial, we all need to be more honest about our own motivations, and clearer about what actually persuades people. I think it is very easy to hurl ourselves furiously into activity: attacking/comforting immigrants; campaigning for this or that; signing petitions for this or that; seeking to apportion blame, and so forth. However, I suggest that we might want to spend some time considering which activities make the best use of our energy before we leave the stage. Brexeunt.
[1] The correct answer is 'no', Fact Fans, because students aren't insured to get up on the kick-step, and can't attend the (vital, vital) Ladder Awareness course.
[2] Of course I understand that not everyone who is currently experiencing voter's remorse voted Leave; I'm using a Leave voter as an example purely because the majority of voter's remorse appears to be on that side.
[3] A report I read today put the number of people declaring themselves to have voted the 'wrong' way at just over 1.5 million, including people from both sides.
[4] Even if one had thought (erroneously) for several decades that the Sun was marvellous, surely the recent coverage of the Hillsborough enquiry would have given pause for thought?
[5] Farage has been an MEP for some time, but is not and has never been an MP. Therefore, since he is so keen that everyone knows who is elected and who is not, I think we should refer to him in public discourse as 'non-MP Nigel Farage'. As I have argued elsewhere (see Punch drunk), I feel similarly about how we refer to convicted rapists in public life (as in, 'Today, convicted rapist Mike Tyson unveiled his new range of men's underwear. Nobody cared and he was later seen weeping quietly in a car park') because a. rapists are, overwhelmingly, multiple offenders who show little remorse for or understanding of their crimes, and therefore this would be a public service, designed to make everyone safer; and b. we need to counterbalance the message that rapists can get away with it if they appear to be upstanding members of society, particularly if they are good at sports. We help them believe this is the case by protesting that they 'always seemed nice' when the crimes come to light, and then forgetting their crimes incredibly quickly. If it's legitimate to remind an entire Trump rally that Mike Tyson used to be a champion boxer, it's also legitimate to remind those people that, around the same time, he raped an eighteen-year-old, lied about it in court and was sentenced to ten years but only served three. He later wrote in his autobiography that he didn't rape anyone and then blamed the victim for going to his hotel room in the first place, a stance that Donald Trump recently recapitulated. Then, just as the police failed to intervene when O.J. Simpson started beating his wife, everyone forgot about any of this because SPORTS.
[6] Me: Is there a box for 'I'm voting to remain, but I also want it to be understood that this should not be taken as an endorsement of Cameron and George Osborne in any way, because fuck those guys'?
Official Polling Station Man: You're the fourth person to make that joke today.
Me: It's not a joke.
Official Polling Station Man: I'll get the Special Pencil.
[7] Hal Whitehead and Luke Rendell, The Cultural Lives of Whales and Dolphins (University of Chicago Press, Chicago, 2015), p. 9.
[8] I don't care what David Beckham thinks because I see no evidence that he knows any more about the EU than I do. John Barnes, however, had several very interesting things to say after Gove misrepresented what he said about the possible consequences for British football of leaving the EU.

[9] Want to cheer yourself up with something Donald Trump-related? This Chrome extension automatically replaces the words 'Donald Trump' with an unflattering description from Jezebel. It really did make me feel slightly less depressed about geopolitics.

[10] Me: why do you think this vision of Russian 'masculinity' doesn't include chest hair?
Caroline <shrugging>: People are stupid.

[11] The system was simply that the staff chose a Head Boy and Head Girl from the senior prefects, who they thought would be good. I think we might have been asked for our views, but there was certainly no campaigning or hustings etc.