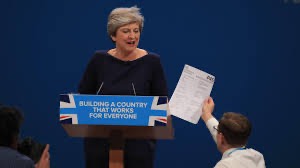 Theresa May is, in my view, a cold, mean woman and a poor Prime Minister. However, she is also (on the balance of probability) a person, doing an important and difficult job, not very well. I think she knows she's not doing it very well, because I've also done jobs that were, in their local context at least, important and difficult, and at which I was poor. I understand that haunted, gaunt look on Theresa May's face and her unsteady voice: these are the features of someone who knows they suck at their job.
Do you know what I did when I realised I was in a job I wasn't any good at? I quit, and let someone more competent take over. Theresa May seems to feel that she has to stay in post, maybe because the alternatives are just too awful too contemplate. This week someone at the Conservative Party Conference actually said on live radio that he thought Boris Johnson would make a good Prime Minister.[1] I know people have been saying that for years, but this fool said it after Johnson made light of civil war in Libya[2] and after the British Foreign Secretary recited the opening lines of 'The Road to Mandalay' in the Shwedagon Pagoda (the holiest Buddhist site in Yangon). Imagine the fuss if a Burmese diplomat spontaneously recited a poem in his native language, protesting about the hundred-odd years of British occupation perhaps, while visiting Westminster Abbey on behalf of his nation. Imagine also, if you will, how politics in Britain might change if we all stopped pretending that an Oxford education (or a tendency to make jokes in Latin, or a liking for Eton and governesses, or a total lack of respect for other cultures) makes a person special, clever or eccentric. Boris Johnson does a good impression of a Very Clever person, but doesn't have the wit or humility to acknowledge that he is deeply mediocre. The same applies to Jacob Rees-Mogg, a man so clearly convinced of his own sense of entitlement that I sometimes comfort myself in the small hours by imagining bizarre deaths that might befall him (see also evil sock-puppet Michael Gove). Since I first wrote this blog post, Alexander Boris de Pfeffel Johnson has managed to (yet again) say the wrong thing about a British woman currently in an Iranian prison on trumped up espionage charges, suggesting that Nazanin Zaghari-Ratcliffe was in Iran 'teaching journalism'. No, she wasn't. She was on holiday. The Iranian government are now using this information to support fresh charges and there is every chance her sentence will be extended. If you go to the Independent article I've linked to above, for the next few days you can hear disgraced former defence secretary Dr. Liam Fox MP for yourself, defending Boris Johnson's 'slip of the tongue' and suggesting that people shouldn't 'overreact'.
If, while taking money to do a job I was terrible at, someone had handed me a fake P45 (even in jest), I'd have seen it as fair comment. If, however, one has confidence in one's ability and knows that one is just taking some time to find one's feet, then being handed a fake P45 in public isn't a problem. It's a gift. Much as I dislike Theresa May's policies, I hate to see a woman (any woman, but a woman in public life particularly) miss an opportunity to humiliate a man who is trying to humiliate her. Here, then, are some things to make and do with a fake P45:
i. Take fake P45; crack weak joke; finish speech; cry about it later in conference venue toilets. Listen to moron who does your old job being interviewed on evening radio describe breath-takingly inadequate security as 'disappointing' and respond to the question 'what if he had been carrying acid?' with 'well, he wasn't.'[3] Google 'acid attack'; ponder own mortality; cry some more in Downing Street toilet.
ii. Ignore man attempting to hand you fake P45. Pause speech only to say, 'If that man isn't removed immediately, I'm going to make whoever is in charge of security come up here and explain to the class how this person was allowed to get within touching distance of the Prime Minister.' Wait in stony silence for security to remove P45 Man. Finish speech.
iii. Take fake P45, screw it into a ball and bounce it off P45 Man's face. Dust hands. Finish speech.
iv. Take fake P45. Walk back to podium and announce that you are firing your current bodyguard. Point out that P45 Man could have been carrying acid, and show you're capable of going off script and familiar with your own legislation by reiterating the new regulations being brought in to make acid attacks more difficult, thus both protecting the victims of acid attacks and pissing off Amber Rudd, who already announced them.[4] Have epiphany that Amber Rudd is a moron and fire her too.
v. Take fake P45. Walk back to podium and explain that this P45 has reached you by mistake, and was intended for the Foreign Secretary. In fact, this has just reminded you to fire Boris Johnson, right now on live television, because of, among other things, the hateful thing he just said about the civil war in Libya and his tone-deaf impromptu poetry recital in Yangon. Explain that foreign wars are not opportunities for British businesses to exploit, and that representing one's nation requires one to have some idea of history, context and courtesy. Apologise unreservedly to the people of Libya and Myanmar. Finish speech.
vi. Take fake P45. Walk back to podium. Announce, in coldest, most menacing tone, 'It's a fake P45, everyone. Let me show you what I think of that.' Screw it into a ball and eat it. Freestyle rest of speech, announcing whatever the fuck you like. Never worry about leadership challenges ever again. Bonus: any subsequent throat problems can be blamed on the fact that you literally just ate that fucker's joke.
vii. Take fake P45. Walk back to podium. Commenting that you intend to treat this gesture with the dignity it deserves, fold fake P45 into jaunty hat. Put hat on. As P45 Man is removed by security, fold hat into paper aeroplane. 'Accidentally' release paper aeroplane in such a way that Jacob Rees-Mogg is fatally wounded in the eye and bleeds out as you finish your speech. When prompted in post-speech interviews to comment on this tragic and yet deeply satisfying end, describe the incident as 'disappointing'.
___________________________________________
[1] Until the end of October, you can listen to this buffoon for yourself on PM via iPlayer (starts just before the 18-minute mark), but the burden of his song is that Boris Johnson appeals to young people (?), whom it is hoped will learn to 'aspire to the Conservative way of life' (??).
[2] 'The Road to Mandalay' is Kipling in full colonial fig, speaking from the point of view of a retired soldier reflecting on his time in Burma (as it was then). It refers to Yangon throughout as Rangoon (as it was known under British colonial rule), describes the Buddha (again, I remind the reader that Boris Johnson was in a Buddhist temple) as 'an 'eathen idol', and a 'Bloomin' idol made o' mud/ Wot they called the Great Gawd Budd', and suggests that the soldier persuaded a Burmese girl to stop 'a-wasting Christian kisses' on the Buddha's statue by kissing her himself. Fortunately, the British ambassador was able to intervene before Boris Johnson had got much further than the fourth line ('Come you back, you British soldier; come you back to Mandalay!', which is quite bad enough). I suggest that the British ambassador shouldn't have to educate the Foreign Secretary as to how to be a diplomat, or to point out that they're in a Buddhist temple (it's huge and covered in gold). For such a thoroughly educated man, he is extraordinarily ignorant.
[3] Amber Rudd didn't even manage to use the question as an opportunity to talk about the legislation she had just announced (again, you can listen to her excuse of an interview via iPlayer, from 20 minutes 45 onwards). She could so easily have said, 'I can't comment on the specifics of this security breach, but I'm glad you mentioned acid attacks. Acid attacks are very serious, and I just announced a bunch of regulations that will make it harder for people to carry them out.' It also suggests that Amber Rudd doesn't understand hypotheticals. What if Jacob Rees-Mogg was run over by a float at gay pride? What if his face was eaten by owls? What if he choked on a quill pen? What if he was smothered in vellum? What if he was wounded in a freak paper aeroplane accident? Well, he wasn't. So far, Amber Rudd. So far.
[4] The majority of the new acid regulations are pretty sensible and supported by the research, but the age restriction (it will no longer be legal for those under the age of eighteen to purchase acid) gave me pause, because it's so bloody Tory. They court the youth vote with all that stuff about student loans and home ownership, but they can't help but show their fundamental fear and hatred of young people (see Bing-bong!).