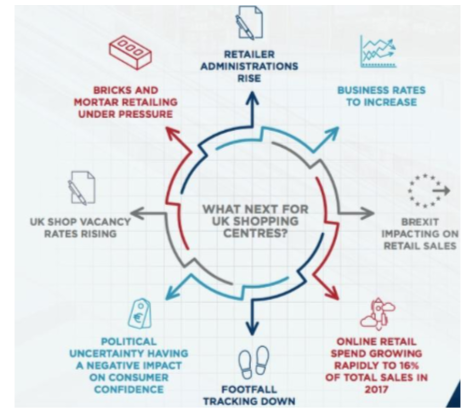 What is the likely future of the High Street? We see, in 2018, quite a few significant businesses going into a form of administration called CVA.1 In Blackpool the shopping centre seems to be significantly charity shops, eat/drink establishments, betting shops – I wonder if I can find a measure of the change.
So does this mean that the number of shops will shrink, or that we will see some significant change? If there is some recognised benefit in having some sort of centre—and I wonder what those are—how do we further such interests? 
Having a shrinkage in physical shopping will have other effects, such as a marked loss of council income — if we are all spending less shopping offline (so to speak) then we not only reduce or change council spending, we might see a demand for online taxation (for the public good, at least in theory), and yet we might see some dramatic changes in the way we perceive and act upon society. Maybe the question is more 'What is the High Street for?' or even to ask "What is it we want from a civic centre?".
We should see this as evolution, not decline, though it remains possible that the High Street per se may shrink or even disappear — as, it might be argued, has happened in our villages. Source [1] says to look at Altrincham, 2 where vacancy rates have moved form 30% in 2010 to 8% in 2017, where the national average is 12%. One attitude is to turn the physical site into one for trying stuff on, collecting orders and, I assume, associated entertainment and feeding-based activities. Another possible move would be to convert stores to housing, which would go some way towards the demand for inner-city housing. What is happening (not only in Blackpool) is that councils are buying up property with a view to strategic renovation (or 'renewal'?); that rather assumes they are among those with an idea of what it is that we would make us of. [success: managing to finish a sentence with a most unlikely word; of, for, by. etc]
Source [3] provides some idea of the impact of online sales. which is rising in a linear fashion at about 1% per year, to around 15% of total retail sales in 2017. That is not a small growth; one percent of all retail sales moves from offline to online each year. Retail sales are far more variable and you should study [3] for yourself. The May 2018 ONS report says the online clothing sector is increasing at a higher rate, currently by 3% across the last year to between 17 and 18%, while food sales online are slower, currently under 6% (of the total food sales recorded).
Source [2] suggests that footfall7 is not only falling, it is moving steadily to retail parks. What seems to be happening is that the number of times we physically go shopping is dropping and, when we do so, we tend to make more of an event of it  — hence the retail park choice. In the jargon of the industry, a retail park embraces hospitality.
Relevant in this change is the identification of the types of shop that are on the increase: coffee shops, beauty salons, ice cream parlours (really? [2] says so). I expect vape shops and gyms should be in there, too.
Background
The 80s and 90s gave us the rise of out-of-town shopping centres and retail parks
Online shopping has risen steadily as a % of spend (figures?)  High street retailers have in consequence moved to keep market share, so that physical stores have a diminished role. One response to this is to turn the street shop into some sort of worthwhile experience.
Laura Lee of the BBC wrote a piece [4] on the topic, looking at how the high street might change. These are:
(i)  'make it a destination', by which she means that events occur (are caused to occur) in the common central space
(ii) don't call it the High Street any more, think of it as an entirely different sort of space. "Town centres are a place where people come to learn, for public services, to live and share time. They have to have the whole mix and keep moving."
(iii) digitise shops  — every retail outlet 'must' also be online so that customers can shop in whatever way is convenient for them.
(iv) change or provide an in-store experience    "Host events, workshops and pop-ups. Or host another business's product in your shop,"
(v) lower rates. Industry experts have long warned that rising business rates are part of the reason behind the UK's empty shop units. Business rates are a property tax based on rental values, which increase in line with inflation. The State sets the rate and the local council collects that. Lowering rates demands that replacement funds be found elsewhere. Recognising that property values fall (will fall, have fallen relatively, whatever) would lower rates; removing parking charges encourages visitors everywhere (and, relatively, discourages too; imagine two adjacent towns one with significant parking charge and one without charge — which would you go to?). At some point along this line we need to be clear what function(s) we think any town centre space serves.      I came across a press headline "Fury as high street shops to pay FOUR TIMES as much in business rates as online retailers" [Sun & Daily Mail headline, 20180703 3, repeated on R4], yet I can find no evidence of ANY routes for an online business to be charged local rates (payment to the local council for provision of services). Therefore I have an outstanding question: do UK online retailers pay tax? 6 Indeed I do not see any way yet that any online business is charged in ways that result in the state gaining tax income. So I continue to perceive that a physical outlet has costs for which an online outlet has no equivalent.
If one is an independent retailer, you do not necessarily need any outlet at all. Put simply, you have to meet the needs of your customers. People want to browse before they buy; that is how you choose the product, but we might separate online research from offline browsing, while also recognising that there are intermediate states. For example, I might go to Staples–oops, missed it; I might have gone to Staples to discover what sort of gadget is on the shelves, allowing for the existence of stuff I didn't know was available (or didn't know I wanted), which includes those things that address a problem I identify with but didn't yet recognise that a solution exists. All of which might classify as seeking knowledge where advertising has not crossed my awareness threshold, which would be my preferred state of affairs. As a retailer, you probably do need to be online, but that does not mean you must retail online. Apparently click and collect is really big [5], but I found no evidence to support that statement. The strongest part of the argument against having business premises is that you avoid business rates and the other costs associated with running a building. Or, to put that a different way, if you recognise the overheads of having premises, you can identify the mark-up you will need to cover those costs; adding 100-150% plus VAT (making your own purchase cost 35-45% of the selling price) is entirely normal. [Source not needed, done this within the family. But I checked it against other opinions, too.]
Recent declarations of CVA
2018  
Poundworld      Bags, Etc       Fabb Sofas      
Henri Lloyd       Gameseek     Grainger
Bench               Betterware     Kleeneze Wine Rack      Clare's              Toys R Us       Countrywide Farners     Maplin               Cloggs            Berwin & Berwin                                          Warren Evans   Joe Bloggs      Justice Jewellers                    Juice Corporation                    Joe Delucci'sGelato 
Nice 'N Naughty                       Barkers (pet grooming)   
See Centre for Retail Research  which also gives a similar list for earlier years. 
Notable to me (I have noticed their existence):
2017  Buy as you View (tv hire, etc), MultiYork, Mango Bikes, Just for Pets, Store Twenty One, Jaeger, 99p Stores, Wallace Sacks (furniture), Jones the Bookmaker, Prelude Records, the Post Office
2016  Staples, American Apparel, Banana Republic, BHS, Austin Reed, Kendal Mint Cake.
2015  MFI, Woolworths (became Shop Direct), MotorWorld, HMV, Radio Shack, Country Casuals.
2014  City Link, Phones 4U, Athena, Unipoart Automotive, Lakeland Leather, West Counttry Pasty Co., Paul Simon (furniture), Poldark Mine, 
2013 Blockbuster, Barratts (shoes), Collectables, Toimlinson Directories, Homebase (ireland), Past Times (again), Comet (again), B&Q Ireland, HMV (again), Blockbuster, Jessops (cameras), 
2012 Comet, optical Express, United carpets, JJB Sports, Julian Graves (natural foods), Clinton Cards, Acquascutum, Abbeycrest (jewellery), Blacks Leisure, Past Times (again).
Any forecast of the future of physical retail needs to pay attention to what is changing. We have been inundated with doom & gloom scenarios as a steadily growing list [shown to the right] of businesses withdraw from trading. The inset list is from source [8]. We are being told that online sales makes a large difference — but in which specific markets? Cushman [6] says online sales of electronics, music and entertainment products already accounting for nearly 50% of total sales, while food and health & beauty products are still way behind at just 5-6% of overall retail sales. Later I found It is evident that investment in the quality of the shopping environment, the customer experience and brands leads to a corresponding rise in sales and leasing activity. Bullshit or sense? If true, this suggests to me that the High Street will head towards shorter term leases, including the very short term for what is already called a pop-up shop but might be called an 'event' as described above. That says to me that landlords will need to actually work at finding takers, which no doubt will cause rents to go up rather than down  — which of course simply drives demand elsewhere. So we might well expect to have a transition period in which businesses experiment with location, display, format (which might be different). One example of this is where an online provider such as Amazon tests out a move to a physical building.  Still quoting Cushman [6], an analysis of credit card data confirms that customer spending on clothing and footwear has been declining in the last 18 months. In contrast expenditure on recreation, culture, hotels, bars and restaurants has been rising both in proportional and absolute terms. Which might be more than a move to cashless transactions.  
Is the perceived change real? Source [12], from the Centre for Retail Research [11], is one I'm going to credit with accuracy. The declared 18% reduction in the number of retail stores from 2012 to 2018 is unhelpful because that includes changes of use out of retail, perhaps up to 6%; more usefully the number lying empty has settled at around 12% of the whole and of these, around a quarter have been empty for four years or more. That's 3% of the total number of retail outlets, which for 2018 is a number between 300 and 325 thousand. 4  Curiously enough, online retailers look likely to be 18%  of the market, but that is a different thing being counted, being value transferred not number of outlets. (see inset, Retailing). Repeating a point, the empty shop count is important, while the fall in retail includes some change out of what is called retail.

All from[12]:    REASONS FOR THE CRISIS. Retailing's problems go back to the recession. There are seven reasons for the retail crisis and online is simply one of them. Since 2008 consumer demand has been weak, price competition has been fierce, online retailing has been cannibalising sales made by traditional retail stores, and retailers' costs have risen faster than price inflation. Average household incomes have only recently regained the real value they had before the recession and consumer confidence is low, reflecting short-medium term negativity, which depresses spending. Retailers' profits are squeezed between poor sales and higher costs. According to a recent Deloitte survey retail profits have fallen by one-third. The increases in the National Living Wage, the Apprenticeship Levy, higher costs of merchandise (because of the Pound's depreciation) and onerous business rates 5 cannot easily be passed on to the final consumer. Twenty-five year leases, with upward-only five-yearly rent reviews, frequently set in the happier days of the 2000s, no longer reflect each retailer's trading conditions, but are difficult to revise.       
CONSUMERS AND THE HIGH STREET. Consumer attitudes to shopping have changed with many preferring to buy online. They shop around more than before and, for grocery, they shop more frequently rather than once-a-week at a large superstore. They still like shopping, but prefer destination retailing and having experiences like eating out, socialising, concerts, and travel which means they have cut their spending in retail outlets. The high street, once the vibrant centre of our communities, is also suffering as a result of retail's problems, with the loss of anchor stores and key tenants making high streets less attractive to shoppers and less diverse. There is a danger that the average high street will spiral even further downwards as consumers look elsewhere — including online. We do not feel that the high street is doomed, but it will have to change. Most high streets are built around retail provision and this is nearing the end in at least some areas. The report does not argue that the high street will die. We see online as reaching its maximum at roughly one-third of retail trade, still leaving plenty of opportunity for bricks-and-mortar to retail the remaining two-thirds. The town centres of perhaps 150 UK towns (41% of the total) will experience a significant decline as a result of changing retail patterns: they need to shrink to survive and to develop other uses for their central facilities. Some smaller and less successful secondary and tertiary sites may disappear almost completely. The report suggests how the government can support town centres in transition and help traditional retailers by ensuring the tax system is neutral between different retail channels instead of being weighted against shops.
The drive for a premium customer experience is going to include free unlimited wi-fi, charge points, valet parking, kids areas and rest areas. Oh really? How about seats for the men fooled into entering a ladies clothes shop? Or for that matter somewhere for Herself to park her man while she does such stuff? Or indeed, anything for a bloke to be interested in that is connected to 'shopping'? I moaned once in Beijing that we'd been to a mall of some sort and I'd found precisely one shop for guys in the whole place. The immediate (and correct) response was, of course, to ask how many such shops a guy needs. Exactly one, of course. Retailers wishing to change this situation must offer guys some reasons to be interested in becoming a customer. It is hard to interest me in clothes, though I can be interested in matters electronic and related to the house or even to my various interests / hobbies. But my impression of a shopping mall is that of an endless, possibly repeating, series of shops for women. 
Retailing
Some of this appeared in an earlier essay, but this is 2018 info from Source [12].
The 17.8% online share for 2018 is an average across all retail categories. But 17.8% overall means that online retailers will sell almost one-quarter (24.6%) of all non-food merchandise this year, the highest proportion so far.       
The non-food sector is responsible for 56.8% of total retail sales (including department stores, clothing/shoes, electricals, jewellery, health/beauty, household, furniture, music and leisure).
By retail we mean the sale of merchandise to the final consumer (OED) and exclude service providers like restaurants, coffee shops, beauty parlours, though their fortunes are discussed here as part of the high street. Many retail stores have of course changed to becoming homes or offices, or have been taken over by other high street service businesses, such as hairdressers, restaurants, coffee shops and health and beauty specialists. They are not counted in our figures of retail outlets.
The store vacancy rate has fallen to 11.9% and has been stable at or around this figure recently. Amongst these vacancies, 26% have been empty for four years or more and a further 19% have been mostly unused for between two and four years.
This is something of a laugh, since the wife's size, XS, actually reduces the space to be investigated rather wonderfully. M&S, for example, usually has nothing in the adult selection. This does not stop herself from going to look and I continue to be amazed (read that as irritated at the internal deceit) at the time spent looking at stuff obviously far too large — and that is ignoring the time spent looking at what is entirely inappropriate irrespective of size issues. Quite clearly, this 'shopping' thing is not about buying clothes. What a pity that the very-much-wanted explanation of what shopping IS about remains unexplained. I can list things it isn't, such as the Victorian promenade, the being-seen-about-town; nor is it an opportunity to meet with like-minded folk; it rarely produces the too-often promised and unfulfilled coffee that keeps me tagging along; it isn't decision-making practice [it takes me about 5 minutes to find three dresses that would not only fit but look good, but up to an hour of indecision follows], which is a pity; nor is it working-on-the-marriage, since the understanding of what processes are positive continues to make no progress, except in the sense that my list of <what shopping is not> gets longer. At its most successful, we identify a suitable shop (next in some sense), I breeze around feeling useful and identify things that will fit and are in some sense acceptable — and then find a place to read my current book, which might mean going to a nearby coffee house. Meanwhile Herself tries on any number of things, possibly including those things identified as 'okay'. This continues until I have lost all patience,  have had a surfeit of coffee and retire to the car — which is, at least, a comfortable seat.
I continue to not understand what this 'shopping' activity is. Clearly it is far more than merely the act of purchasing. Having discovered the meaning of the term footfall I have been watching this event in Blackpool and I see very little correlation between numbers of people on the streets and what we might call business traffic. Yes, I can see that if the streets are empty then there cannot be customers, but I also see that when the streets are very, very full there are also very few customers (except for the food & drink trade and even then it is a surprise to me that some places are still empty). I see families, who I therefore presume are on holiday, wandering around in a desultory fashion and I wonder what they actually think they are doing. Is this what 'shopping' is? Is 'shopping' some form of entertainment? Is this merely filling time until the next argument meal?  Has any thought at all gone into the choice of activity or is this some sort of default position?  
Answers will be appreciated — on here, even.
DJS 20180701
Re-reading this at the end of the year, [14] from The Atlantic, suggests  that this is a long overdue correction, which term might well be applicable in the US, where, it says, The United States devotes four times more of its real-estate square footage to retail, per capita, than Japan and France; six times more than England; nine times more than Italy; and 11 times more than Germany.  I wonder how one might measure such things, given the inherent confusion explained above about what does and does not count as 'retail'.  Research mall retrofit.
1 http://www.rics.org/uk/news/news-insight/comment/debate-what-is-the-future-of-the-high-street/
2 https://brc.org.uk/news/2018/vacancy-rate-rallies-and-footfall-favours-retail-parks
3 researchbriefings.files.parliament.uk/documents/SN06186/SN06186.pdf
4 https://www.bbc.co.uk/news/uk-41916658
5 https://www.startupdonut.co.uk/sales-and-marketing/are-small-retailers-doomed-the-future-of-the-high-street
6 http://www.cushmanwakefield.co.uk/en-gb/research-and-insight/2017/uk-shopping-centres-insight-report-september-2017    
7   https://www.companyrescue.co.uk/guides-knowledge/what-is/what-is-a-cva-or-company-voluntary-arrangement/?gclid=EAIaIQobChMI2bDGmoyA3AIVyWwbCh3BwQ5rEAAYASAAEgJXxPD_BwE    
8   http://www.retailresearch.org/whosegonebust.php
9     https://www.manchestereveningnews.co.uk/news/greater-manchester-news/altrincham-trafford-boom-town-market-14299990     
10 https://www.thesun.co.uk/news/6681563/fury-as-high-street-shops-to-pay-four-times-as-much-in-business-rates-as-online-retailers/     
11    http://www.retailresearch.org/retailatbay2018.php  and the bottom it tells you how to get the report. Bamfield, J.A.N. (2018) Retail At Bay 2018 Report, May, Norwich: Centre for Retail Research. References based on the report are numbered as [12]. Part 1 is 78 pages long and has lots of detail. part 2 is only 14 pages. No, 13.
13  https://www.retailgazette.co.uk/blog/2018/03/laws-enforcing-online-retailers-pay-full-tax-come-effect/
2018 [14] https://www.citylab.com/design/2017/12/the-great-retail-retrofit/548753/?utm_source=newsletter&utm_medium=email&utm_campaign=atlantic-daily-newsletter&utm_content=20181123&silverid=NTE3MDgxNDgxMDUyS0   a later look at the same thing, from the Atlantic.

1 The current term is CVA, Company Voluntary Administration, which is not quite 'going bust', but an open declaration of real problems to be fixed over the medium term, 3-5 years. Link [7] explains more.

2 Altrincham, southern Greater Manchester, 4 miles WNW of the airport, had the highest shop vacancy in the UK in 2010.[9] Trafford Council spent huge amounts directly and indirectly raising footfall in 2016 to 1.74 million. This is separate from the nearby Trafford Centre (The), which opened in 1998. This is not just about shopping though, as the locals report a change in the image of the town. 
3 Stores are paying 2.3 per cent of their turnover on the tariffs compared to the 0.6 per cent paid by internet outlets, according to the Centre for Retail Research. [10, 11]  Implication in the Sun that 'tariffs' = 'business rates'. I do not think this is so. Waiting for [11] to send me the report.
From source [11] Business rates are a major cost now for bricks-and-mortar retailers, but not for online businesses. Business rates are the equivalent of 2.3% of bricks-and-mortar retailers' sales and 0.6% of online traders' sales and prevent shops competing effectively with their online rivals. This year, traditional stores are expected to pay £7,168mn in business rates for 2018-19 and online retailers only £457mn (6% of the total retail rates bill). 
The report recommends government action now to replace business rates with a new measure calculated by (a) revised business rates, without exemptions, plus (b) a turnover tax as a short-term more equitable measure, which is non-discriminatory, reduces the rate bills of independent retailers having lower sales, and increases the rate bill for online traders to a level comparable with shop retailers.
I think this is a fudge, a conflation of 'charges on a business' with 'business rates' (which go to the council, who in turn spend (some of) those funds on improving the locality for the benefits of the business. I think the 'charges' to an online business are those charges made by the money-handlers, so are paralleled by the high street stores that recognise they must have on online presence as well as one on the street. It might just be that domestic rates are estimated as a cost on an unannounced business.  If I worked for HMRC I'd be looking at tracking these businesses down. I wonder what the price of a neighbour's whistle-blowing might be? How irritated do you have to be that a neighbour is not paying business rates (and that therefore you are paying proportionately more for something pretty intangible) before you are prepared to tell the Council? My own observations of this degenerate rapidly to very personal interest, such as immediately local traffic such as the business vans parked overnight in front of your house.
The Mail and Sun headlines, 3rd July, appeared AFTER I first uploaded this content, by about a week, though I have dated the page as July 1st. I didn't find the report [11] until the 3rd, though I had found the home page of that source, [8].
4 We estimate that 60,932 stores have closed since 2012, a fall of -15.7% to end-2017.  If the 2012 figure was 100% and we're now at 84.3%, then 60932/0.157 is the 2012 figure and 84.3% of that is 327,000.
5  BUSINESS RATES. Business rates prevent UK traditional retailers from competing effectively because they are no longer a neutral form of taxation. This year, bricks-and-mortar retailers are expected to pay £7,168mn in business rates for 2018-19 and online retailers only £457mn (6% of total retail rates bill). Business rates are the equivalent of 2.3% of bricks-and-mortar retailers' sales and 0.6% of online traders' sales. The scale of business rate charges now plays a significant part in the cost of retail merchandise. The report recommends action now to replace business rates with a combination of (a) current business rate, without exemptions, and (b) a turnover tax as a short-term more equitable measure.[12] This implies that online traders pay rates.
6 Do UK online retailers pay tax?  The answer seems to be that not many do. [12] implies that there is 0.6% paid as rates. I continue to fail to confirm this. If you run a business online and you are resident in the UK then you should be charging VAT and apparently we have £1.5 billion uncollected. See. No doubt you should also be paying a load of other business taxes. See. The root issue here is failing to declare the situation in your tax return; no matter how small. See here. Read the HMRC webpages, and research 'badges of trade'. On the way, inevitably, is a tax for business conducted online. This is already long overdue. Look at Digital Tax, perhaps here, but don't confuse it with VAT and corporation tax.
HMG is getting markedly better at sharing information. Look at Distance selling and online selling, but the only tax obviously to be paid is VAT. There is an entirely different nest of snakes if buying from abroad, covered in other recent essays. I think we will be seeing a tax—even several taxes—applied at both ends of the transaction fairly soon. Big Brother needs his cut. Disagree? Well then you'll be supporting the loads of other taxes needed to pay for <long list from government departments, not least Health and Defence>
2017/8 brought new powers to HMRC, levelling the field a little. See [13]. Picking from [13]: 
• online marketplaces now have the responsibility to make sure sellers on their platform pay the right tax and to make sure fraud does not happen.       
• If sellers based in the UK or overseas are not paying the correct VAT when selling in the UK, and are not removed from the site following the issue of a notice by HMRC to the marketplace, then HMRC has the power to pursue the marketplaces themselves.         
• The rules also make online marketplaces liable for VAT where they knew or should have known that an overseas online seller should have been VAT-registered but was not.            
• Online marketplaces must now also make sure sellers using their platforms display a valid VAT number on the site when they are given one, to help buyers make an informed choice about buying goods from a VAT-registered businesses. Marketplaces are also encouraged to help online sellers to understand the tax rules.
7   Specialist Vocabulary
Footfall - the number of people entering a shop or shopping precinct. Also called people counting, shopper counting, shopper traffic. This must be turned into nonsense in retail parks where a shop is also an entrance to the retail area, but perhaps the traffic is seen as an opportunity to make sales, however reduced. One returns to premises of what shopping actually is - I am reminded of The Hidden Persuaders by Vince Packard, which I must have read in 1972. There is a monthly report from the British Retail Consortium. I do not understand the term 'beyond free' in the description of access to the figures. A subscription is around £4500 per year.
Retail sales  -  Data which show the total value and volume of retail sales are available from the monthly ONS publication Retail Sales.  There are two measures, by volume (meaning number of items bought) and by value (the amount spent). Often automotive fuel is treated separately, i.e., the figures are presented with and without fuel being included. The headline figures are not particularly helpful if looking for long-term trends; a graph would be much more helpful. For example, the comment on May's apparent improvement refers to the weather (improved over April), the royal wedding — no doubt June's figures, good or bad, will be attributed to the soccer World Cup.
Vacancy rates  — the percentage of shops which lie empty at any time. 2017 values were 8-9%, but it is difficult to be clear what is counted in or out, just as it is difficult to be clear quite where the sample space is. I live in FY1, central Blackpool, but does that mean that the town's vacancy rate includes the empty shops within 400m of my house, or only those in the central retail district?
Anchor   - A shopping centre anchor is anything that makes lots of people travel so as to spend.
The Future of Clothing Retail:
Sci-fi readers will be already familiar with the idea of clothes sized for the body you have. We step a little nearer that with the Zozo suit, from a large Japanese supplier, that will only offer stuff that fits what the suit measures your body shape to be. So says the hype; I'm sure people will be perfectly able to continue to pick what is unsuitable, but they might begin to get the size right. I wonder if that will lower the return rate — and please be aware that in the clothing business 'rate of return' doesn't mean the same as the financial return it indicates in other businesses. A typical figure is 30-40%, I discovered in researching an earlier essay. 166 - Dress Sizes, 2015. Shopify says online returns run at 20% across all sectors, but peak at 50% in high summer. 
[My 30-40% figure came from here.]  I found a BBC report saying New figures suggest almost two-thirds of shoppers who bought women's clothes online in the last six months sent at least one item back. So-called "serial returners" are blamed for pushing up prices. Researchers who questioned over 1,000 online shoppers found women's clothing had been returned by 63% of them.  [poor question, surely; I've bought clothes by mail order and returned stuff — in 1975] Retailers said free returns were an important part of their business but the costs had to be recovered somewhere or they risked going under. Consumer analysts  Savvy Marketing compiled the figures for BBC Radio 4's "You and Yours" programme. It found 56% of all people questioned, who bought any type of clothing online in the six months up to May 2016, had sent one or more items back. [see; a better question]  The figure was higher for women's clothes. 
I join the group that moans long and loud about the failure of ladies clothing sizing to be accurate, or even honest. See essay 166 on that.
The drive to remove retail staff takes another step forward—beyond that of the self-scan route in the supermarket—when the in-house computer tracks what you put in your basket AND charges you for it all as you exit the premises. See an early release. At least I hope that's when they do so, given Herself's indecisive routines (things go in the basket and come out again; no, I do not understand this behaviour). You might also look at the Amazon Go store, here and here.  Technically, the feature that has lain relatively unused is RFID (Radio Frequency IDentification, a little tag in the clothing or other article). Some ideas here. Thieves will already have realised that they are apparently paying for only the RFID, so we can expect there to be supporting tech checking that the tag has not been removed, that there is identification checking of goods and customer. And you can expect that the hi-tech directed advertising—that was the bane of modern society in the sci-fi I read as a teen—is only just beginning. I can see a counter-movement in which people actually go to seek interaction with Real People. T-shirt idea, there.
I offer quite a few reports on the future of retail. a b c d e ….. perhaps I need to start a new essay?