Recently, I bought a Sting album. In my defence, I've never pretended to have taste when it comes to popular music (see The uncharitable goat) and I don't intend to apologise for this now. The album is Soul Cages, which is about the death of his father, and exactly what I wanted to listen to when my grandfather died in April (see Fatherlike He tends and spares us / All our fears and hopes He knows); moreover, Mad About You and All This Time are, whatever you might think of Sting and his works, bloody brilliant songs. Even so: Sting, for fuck's sake. In recent times I have also developed a distressing interest in gardening, bought an extra-large handbag, and woken my husband up to rub my back, make me a hot-water bottle and then stuff it (the hot-water bottle) down my pyjamas. In short, I am entering the foothills of middle-age.
This is the not the disaster it may at first appear. Firstly, I'm married to a much younger man, which certainly takes the sting (<pounding of desk>) out of ageing. I was asked to present at a careers event at the university last year, alongside another freelancer, and when I was asked the obligatory 'but what about your pension?' question, I responded smugly that I was married to my pension.[1] Secondly, there is no rule that says middle age has to involve elasticated waists, twinsets or pearls. Nothing will induce me to dress as the fashion industry suggests middle-aged women should: a few months ago I bought a skirt in a print called something like Bugger Me, It's The Circus, which is bright green with pink animals and acrobats all over it, and which I'm intending to wear with something unapologetically unsuitable. Owning the Hound, however, has forced me to make another sartorial choice that is unequivocally middle-aged, and which I'm still sad about: I own an anorak. It's the same colour as a cagoule my mother used to wear to muck out the ducks, and I look depressingly like her in it. An anorak is terribly practical for dog-walking purposes: there are two capacious pockets more than large enough to take a poo-in-a-bag, and the Hound can be whisked into one's arms away from the slavering jaws of other dogs without fear of ruining one's arms and/or clothes. Nevertheless, the bloody thing is an anorak deep in its soul: shapeless, crackly and covered in zips. I wore it every day throughout the winter to walk the Hound, and now autumn is upon us with its mists and drizzle, the Mumnorak Returns.
Of course, the only people that see me in my Mumnorak are those that think the nature reserve is the place to be at 8am on a weekday with a one-eyed dog (see Dearer than Eyesight), and most of them are wearing horrible outerwear of their own and/or shouting ineffectually at their own dogs. I've noticed a distressing tendency to massively underestimate how responsive dogs are to commands. The Hound cannot be trusted off the lead, so he stays on it at all times. Other dogs that pay no mind whatever to their owners, however, are allowed to roam around freely.[2] The Hound also isn't good with strangers and frequently attempts to perform a citizen's arrest on various dishevelled persons passed on our morning walks. They are usually walking swiftly and stiffly, smelling powerfully of drugs, and such is the civic pride of the Hound that he cannot help but seize them by the trouser. He also can't be trusted when we are alone: if I take my eye off him for a moment, he hurls himself, toddler-like, into either filth or mortal peril (or, most excitingly, both).[3] For example, we recently encountered a man walking through the nature reserve yelling about crystals, or so it seemed. It turned out that he wasn't a drug addict at all (or if he is, crystal meth isn't his thing); rather, he was looking for his wife's chihuahua.[4] When I asked him to describe her, he replied, 'she's called Crystal, and she's wearing a pink diamante collar. She's just finished being in heat.' While I tried to say something (anything) other than, 'right, but what's the dog like?', the Hound cavorted cheerfully in a cowpat. On the way home, we met an Alsatian that looked at him in a funny way, so of course by the time we got back to the house, both our respective coats were covered in shit. His went under the tap and then in the washing machine, but the Mumnorak is so hateful that I didn't even bother to brush it down.
I think the fact that I continue to hate the Mumnorak shows that I haven't completely accepted my fate as a middle-aged woman, and yet the last twelve months have included another, even more portentous sign of impending senility: I have become a bird-watcher. The nature reserve in which the Hound and I take our daily constitutional is an extraordinary place. I have found the following things lurking in the hedge along the towpath: a dead rat; a dead skateboard; condoms, various; an empty box of chocolates (who eats Milk Tray by a canal?); and a selection of increasingly bizarre graffiti, my favourite of which reads simply 'MALORY?' (a difficult evening for the local Arthurian legend reading group, we can only assume). The nature reserve consists of a number of large, flood-prone fields with a brook running through them, various stagnant ditches bridged by narrow, slippery planks, and two tiny strips of green either side of the towpath. It is neither large nor unusual, and yet it holds an enormous amount of birdlife. I'm not doing anything clever involving hides, camouflage or bird-calls to see any of these animals; I don't even own a pair of binoculars. I just walk with the Hound from our house to the nature reserve and around whichever bit seems to have fewer dogs and/or cows in it, and use my eyes. There are the usual suspects that one might expect to see on a tow-path (see Tales from the canal-bank) i.e. ducks, moorhens, pigeons and blackbirds. However, I've also seen two teeny-tiny male wrens fighting in mid-air, squeaking ferociously and trying to peck each other's eyes out; many an encounter with kingfishers, either skimming along the water or doing little stretchy kneebends on twigs; umbrella-like herons; a Greater Spotted woodpecker banging his head against a tree; hunting kestrels; a jay and a green woodpecker taking turns to laugh at each other; and any number of sparrows, dunnocks, bluetits, wagtails and goldfinches.
So far, so middle-aged. Barring the waterfowl, I could probably achieve much the same list by hanging a couple of bird feeders in the garden and sitting still for a bit, except that there is also a hawk. Wait – did I say a hawk? There is a pair of hawks. There is a pair of hawks, with a nest, which I found, where they made a baby hawk. I say 'hawk' because they look superficially like buzzards, but the behaviour (hunting pigeons on the wing), territory (marshy fields)[5] and size difference are all wrong. I simply refer to the whole family as The Bird, and then disambiguate ('I saw the Bird today. It was Her/Him/The Baby'). They are easily distinguished: He is chocolate brown, with a wingspan just under three feet. The Baby is much the same size and colour as Him, but flies like an idiot, wailing and perching forlornly in trees in the hope that the non-existent bunnies will shin up the trunk, tear themselves into shreds and press themselves into his beak.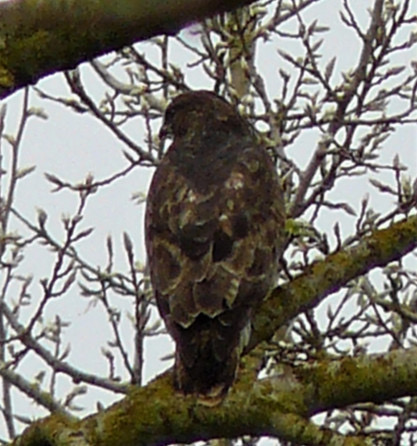 Him, January 2017
Female raptors are almost always larger than their mates, but the size differential here does my heart good: She must be at least half as big again as He is. She could bring down a gazelle. She could eat Him for breakfast, and I'm pretty sure she ate poor little Crystal. She is massive.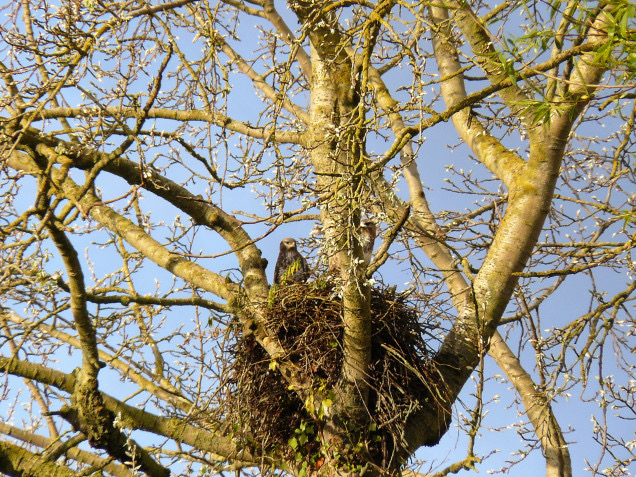 Her (right, peeking coyly around a branch) and Him (left).
The only birds larger than Her on the nature reserve are the herons, stalking about like two pairs of chopsticks (one for the legs, one for the beak), and I'm living for the day when the Bird finally gets around to reading The King's General and decides the herons are mocking Her with their disgracefully large wingspans, and might make an exciting meal.[6] The story that Robert of Artois insulted Edward III by serving him a roasted heron, as a way of insinuating that Edward was reluctant to invade France because he was a wet (rather than because, you know, France is huge and it might start the Hundred Years' War) relies on the idea that herons are inherently timid.[7] Beaks prevent birds from expressing emotion with their faces, and yet herons manage to convey both sheepishness ('sorry to be standing here in the canal again. I don't know what to tell you') and a powerful sense of menace ('yes, I will be eating a live frog in just a moment!').
The Hound has a vendetta against all birds of all sizes (except the Bird, presumably because he thinks She is a light aircraft). The reader will recall my earlier assertion that the Hound cannot be trusted, and here we come to the heart of the matter. This morning, as we were traversing one of the aforementioned narrow and slippery plank bridges that span the (surprisingly deep) ditches in the nature reserve, the Hound spotted a heron, about six feet away from us, standing quietly in the water. There was a tiny moment of stillness in which the heron, nonplussed by the Hound appearing above him on the bridge, looked both baffled and embarrassed. Then he unfolded himself and lurched into the air, flying right over our heads back towards the field we had just left. The Hound, who is an idiot, borked furiously, banged his eyeless side against me, borked some more, tangled his lead around my legs and skittered off the plank, thus pulling both of us straight into the ditch. I say 'ditch', but that suggests something relatively modest in size: it was deep enough for me to be almost totally submerged in filthy, duckweed-y water. The Hound scrambled out on his own, unimpeded by the lead and barely wet, whereas the only part of me that escaped was my right hand (I held the lead above the water heroically, like The Lady in the Really Dirty Lake). By some miracle, both keys and glasses were still on my person when I clambered out (the same couldn't be said for my dignity); I hadn't taken my phone; and it wasn't actually the middle of a thunderstorm or a powercut. Otherwise, things were pretty bad: this bridge is the turning-around point on our favourite stick-gathering route i.e. about three miles from home. We walked it just as we were, wet through, squelching and foul. On arriving home, I had to prop my wellies upside down to drain by the front door, strip off everything in the porch and wash and feed the Hound before I could even make a start on getting myself clean, warm and dry. I literally picked duckweed out of my eyes, teeth, ears and bra. I have washed my hair three times, showered, bathed and cleaned my fingernails, but my arm still smells faintly of stagnant water. My new dungarees are ruined, and the not-at-all-hateful raincoat that I bought specifically to replace the Mumnorak, and which was carrying a full cargo of poo-in-a-bag at the time, will never be the same again. Much like Edward III, I swore on the heron.
—————————————————————————————
[1] Does your pension cuddle you and tell you how much fun you are? Thought not.
[2] Exhibit A: the massive fucking Doberman the Hound scared the crap out of in the first three weeks we had him. The damned thing cantered out of the mist like a black-and-tan one-headed Cerberus, the size of a pony and its owner nowhere to be seen. I picked the Hound up, which of course merely raised him to nose-level of this monster dog. Upon being sniffed, the Hound jack-knifed in my arms, caught the Doberman savagely by the ear and worried at it furiously, growling deep in his throat. The poor Doberman, surprised and horrified, yelped, ripped his ear out of Peco's savage jaws and cantered back from whence it came, while the Hound borked triumphantly ('and STAY out!') and wagged his tail.
[3] Exhibit B: last week, while I gathered winter fu-u-el, Peco thought a swim (in a ditch, in September, while wearing his clean coat) might be fun. Little did I know this was merely the overture to today's shenanigans.
[4] Remember when we used to say 'chichihuahua'? Whatever happened to that?
[5] Other than pigeons, which must take an enormous amount of energy to catch and pluck, what the fuck are they eating? The ground is too wet for rabbits, and the kestrels eat all the small mammals. There are plenty of ducks that could be caught and eaten, but the preponderance of dog-walkers means that they spend their entire lives on the water, so unless the Bird snatches them right out of the canal, I don't see how. Similarly, seagulls and rooks abound, but they mob the Bird whenever they can, and their (more vulnerable) nests only have delicious Bird-food chicks in them for a few weeks of the year. There are no other large predators (foxes, badgers) that might leave carcasses for them to pick at, and no lambs or other farm animals that might make suitable meals. They built the nest slowly and laboriously, so there must be food in the area. Pheasants? Cats? Unwary cyclists? I have so many questions.
[6] '[…] out of the darkening sky fell the dying heron and the blood-bespattered falcon, straight into the yawning crevice that opened out before me. I heard Richard shout, and a thousand voices singing in my ears as I fell.' Daphne du Maurier, The King's General (London: Arrow Books, 1946), p. 54.
[7] The teenage Edward is supposed to have sworn a vow on the heron that he would, in fact, pursue his claim to the throne in France (hence Jean Plaidy's book The Vow on the Heron), which just goes to show that nothing good comes from encounters with herons.