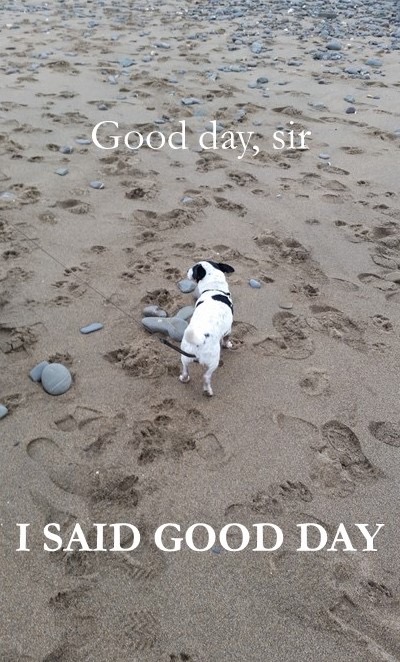 We have all read, heard or (God forbid) been on the receiving end of the unsolicited opinions of people we don't know. Friends speak of strangers criticising their parenting, language and propensity to smile, and every woman has many a horrible story about a rude man on a bus, a building site or driving a white van, yelling out what his boner thinks of our clothes, body or willingness to engage in some kind of sexual act. Last year, for example, a man told me to 'cheer up' on my way to the station. I said, 'I'm going to my father's funeral. Good day, sir.'[1]
The Hound does not like to be interrupted when deciding which rock to rescue from the incoming tide
Today, the woman next to me on the train (who hadn't reserved a seat) was challenged by another woman under the impression that it was her seat (it wasn't; she was in the wrong carriage). Starting at polite and moving through icily civil into something more glacial and yet still perfectly within the bounds of normal verbal intercourse, they stood, one in the aisle, one semi-crouched over the seat like a water-skier, and argued all the way to Reading about whose seat it was. Given that neither had the seat number on her ticket and there were plenty of other empty seats, the whole thing was highly unnecessary, but somehow backing down in the face of a stranger was unacceptable to them both. Are strangers terrifying, rude and unpredictable, or, as per a cushion in the window of my local florist, 'friends you haven't met yet'? What is the etiquette (if any) of such encounters? How does one challenge questionable behaviour[2] appropriately, without becoming the man that told my friend Other Proofreader she was a bad parent because she wouldn't let her toddlers play with a flock of crazed geese? Should we all just keep our opinions to ourselves, or are there times when interacting with people we don't know is desirable or necessary? Here are some encounters with strangers that readers might like to chew over.
Indestructible
A few weeks ago, while waiting for a train, I noticed a man sitting on a bench finish his coffee and put the disposable cup (a cup that will live for a thousand years and therefore is anything but 'disposable') back on the bench. Then he got up and took out his 'phone, his business with the Captain Scarlet of cups concluded. My paternal grandmother liked to hand litter to the litterer, saying 'I'm sure you didn't mean to drop this' or similar, but there are things a kind-looking old lady can get away with that I simply can't. Once, my grandmother (accompanied by me and my brother, both under the age of ten at the time) did this to a skinhead on the Metro. He said he was very sorry, tucked his Twix wrapper into his leather jacket and they reminisced about the local swimming baths for the rest of the trip.
Choose Your Own Adventure
On a boiling hot day last summer, a woman got onto my (very crowded) train home with a small child, and sat opposite me. The small child ate a biscuit with reasonable competence, and then asked her mother whether it was time to get off the train yet. Her mother explained patiently that they had to go four stops. The child considered this and asked if she could have another biscuit to pass the time; she could, provided she didn't make too much mess. Could she read her book too? She could, provided she didn't get crumbs between the pages or 'annoy the lady opposite' (me; it was a large book that took up much of the table). The small child then wedged herself happily by the window, took up as much of the table as she liked, ate her biscuit and, muttering to herself, read her book (upside down, but perhaps Julio Cortazar[3] has written a book for children that can be read that way). As the mother caught my eye to check I wasn't bothered by her daughter reading (very much the opposite), I said quietly, 'she's ever so well-behaved for such a little one. Well done.' Her mother responded by bursting into tears. She then apologised profusely and told me that, earlier that day they had been visiting her sister in hospital and a man she didn't know had marched across the ward to tell her that, in his expert opinion, her daughter was eating so loudly that it was upsetting whoever it was he was there to visit, and furthermore children shouldn't be allowed in hospitals (except when they are terminally ill, presumably). The poor woman was so upset by this piece of rudeness that she had been 'in a state' all day. 'Angry, or upset?' I said. She thought for a moment and said, 'angry. I'd like to see him eat a packet of Quavers quietly.'
Julia Roberts Saves The Day With Her Face
I had been teaching in Nanjing (see Notes from Nanjing).[4] The work was done, and I had travelled back to Shanghai on an afternoon train, in plenty of time to catch my flight home the following morning. I was supposed to be met at the station by somebody called Tabitha, who would then chaperone me and all my stuff back to the hotel. It was a typical Chinese afternoon: very hot, humidity hovering around 80% so that the air appears to have both flavour and texture (neither pleasant), and hordes of people in all directions, all busy and with somewhere to go. This was in the days before I owned a mobile 'phone, so I did as instructed and, balanced precariously on my suitcase, waited for Tabitha to arrive.
Tabitha did not arrive. After ten minutes, I did a quick inventory of my situation. Yes, I was definitely at the right station; yes, I was at the right entrance; yes, I was visible with my bright red suitcase and bright white skin; no, I did not have any Chinese money left (my metro ticket to the airport the following day was already purchased and tucked into my passport); no, I did not have any bottled water or food; and yes, I was exhausted from teaching twelve hours per day for ten days straight. Predictably, after nearly forty minutes of the heat and humidity, I fell off my suitcase in a dead faint onto the concrete.
I was revived by an elderly Chinese man carefully flicking water onto my face. He turned out to be manning the little drinks kiosk by the station entrance, and the water in question came from one of the bottles he had probably expected to sell. He spoke no English and although the Mandarin words for 'hello' and 'thankyou' are among the few words I know in that language, he turned out to speak another dialect (I assume Shanghainese). Thus, we communicated entirely in sign language, while simultaneously speaking aloud in our respective languages. He expressed concern that I had hit my head (I hadn't, but I had cut my hand badly on the concrete); I explained this and he responded by tenderly rinsing my hand and wrapping it in a paper napkin. I expressed gratitude (gratitude! Entirely inadequate), and he patted my good hand, while indicating that I should look in the pocket of my dress. This turned out to contain my passport, with the train ticket to the airport still sticking out of it, which I had been clutching convulsively. We parted the best of friends, my hand bleeding quietly through the damp napkin onto another (unopened) bottle of water that he simply insisted I take. Having had a drink and a sit down, of course I realised that I was perfectly capable of remembering the route to the hotel, without Tabitha and with all my luggage, navigating by the enormous poster of Julia Roberts that was helpfully positioned on an important junction. The walk took maybe twenty minutes; on arrival in the hotel, my hand was disinfected and bandaged by one of the hotel staff, while yet another anonymous benefactor carried my case (he was a guest in the hotel; the bellboys were preoccupied with an enormous party of enormous Americans). This delightful man, who again spoke neither English nor Mandarin, disappeared at the door of my room where I was receiving first aid from the receptionist, reappearing a few moments later with a plastic cup of ice-cubes to reduce the swelling. Again, my thanks were conveyed through much gesturing, smiling and pressing of (sore) hands, since the bilingual receptionist also didn't speak his dialect.
Don't Be Afraid To Try Again
Contrast this thoughtful, selfless behaviour with a final incident, again in Shanghai. On my first night in the hotel, I woke from a fitful, jetlagged doze to the unmistakable sounds of enthusiastic sexual congress. It was so loud that I thought at first they must be rutting against the door of my room. I opened the door to find an empty corridor, and my colleague (who was in an adjacent room) standing in her own doorway, similarly pissed and discombobulated. Raising our voices above the shrieking, we debated which of the doors opposite we should bang on (with our fists) so that we could ask them in our best loud, slow English to shut the fuck up. There were two doors opposite, mirroring our own. Which room would the housekeeping staff be picking their way through in disbelief the following morning? It was impossible to tell.[5] Pressing our ears to the doors was a. gross and b. uninformative. While the room that did not contain our shouty friends could easily have been empty, the possibility of waking some other poor soul at 2am, particularly if s/he had up until that moment been successfully sleeping through the row, and particularly if s/he did not speak English, seemed unacceptable. What on earth were they doing to each other? There were certainly points when the gentleman seemed to be in considerable pain[6] and others when the sounds suggested they were literally eating each other.[7] Having said that, we ruled out all forms of oral sex , since both their mouths were still very much available for being yelled out of, although some more muffled noises suggested that, as Billy Joel has it, everyone goes south every now and then. Happily, while we were discussing the matter, some sort of conclusion was reached by at least one of the invisible couple, so hurray for everyone and we can all have a little sleep now.
The next night, however, this performance repeated itself. What a performance it was: the whole thing was carried out at a volume that generously included the entire floor in the glory that was their love. These deafening exclamations did not constitute clever conversation, but rather the universal language of grunts, groans and, on some occasions, bat-like squeaks that threatened to burst the eardrums. No information likely to surprise the interlocutor was being conveyed. Moreover, there was simply no need for them to yell at the top of their lungs for each other's benefit: this was entirely for us, their public. My experience of jetlag is that the first night one just can't sleep and it is foolish to try; the third night is hell on a stick; but on the second night, I am usually so tired that I sleep straight through. Not on this occasion, though, thanks to Mr and Mrs Shrieky McFuck across the corridor. The following morning, exhausted and grim, I complained at the reception desk. I explained that I didn't know which room the noise was coming from, but that I had narrowed it down to two. Could the hotel staff make enquiries? They said they would, but it often happens in China that staff are much happier to saythey will do a thing than to actually do a thing. The third night I was so tired that I slept through the screaming heebie-jeebies, although my poor colleague assured me over a breakfast that yes, there had definitely been some.
On our last day in the hotel, we queued to check out, bags piled around us, worn out from a long and trying week, but carefree in our waistband-less dresses for the flight home and slightly giddy at the idea of seeing our respective husbands again. Other guests stood about in a disorganised gaggle (the Chinese simply have no idea how to queue). Then, a perfectly ordinary-looking couple in their early thirties were called forward to the desk, and as they dragged their luggage forward, the woman banged her suitcase painfully against her ankle. Ah! she exclaimed, in a voice we knew. What to do? Without any of the relevant words in Mandarin at our command (sleep, deprivation, bastards and dear God sprang to mind), we could do nothing but glare at these hated strangers with a single malevolent eye until they folded themselves into a taxi and left. There wasn't even a passing streetcar to push them under.
—————————————————————————————————————–     March 22, 2018
[1] I was actually going to work and my father fully intends to live well into his nineties, but fuck that guy and his 'arrange your face so that it is acceptable to me' bullshit.
[2] For example, shortly after the Brexit referendum, I was forced to intervene in an altercation between three racist Welshmen and a teenage girl (of heritage that I guess was Indian). This was on a train in the middle of Somerset, on a Wednesday afternoon, for fuck's sake, and in the circumstances I felt justified in being as rude as I've ever been to a group of strangers.
[3] I refer to Cortazar's hyper-novel Hopscotch, which consists of numbered sections rather than paragraphs, and can be read in a number of different configurations. It's basically a choose-your-own-adventure book that is also Proper Literature.
[4] See also any of my many China-related posts by clicking on 'China' in the word cloud or in the list of categories.
[5] Not because the doors had knockers that always told the truth or always lied, but because these people were simply so loud that the doors became irrelevant.
[6] Perhaps he was having a heart attack-ack-ack-ack-ack-ack?