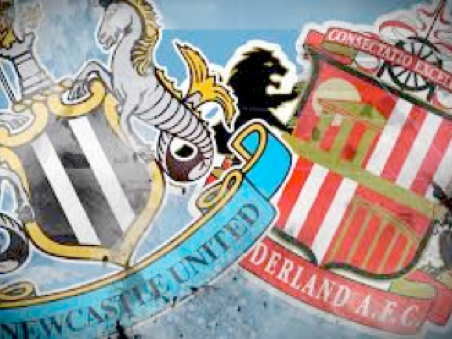 Possible effects upon the North-East if both Newcastle and Sunderland were to go down this year.
At the moment of writing, both Newcastle and Sunderland football clubs are in the relegation zone, likely to go down from the Premiership, as we call the top soccer division, ¹ to the Championship, division number two. I am aware of the effect upon the area when one team goes down, but it is not often that two do.
I made  a spreadsheet as I was exploring and discover that the three NE teams, Newcastle, Sunderland and Middlesbrough (pronounced 'boro) have a good history for time in the top division. Newcastle have never been in the third division, Sunderland once (1985/6) and M'boro twice, 1966/7 and 1986/7. Counting from 1902, the presence of the teams in the top division has been: (0,3), (1,29), (2,38), (3,39). ² Counting only since 1950, those second figures become 3, 24, 24,14. Those three years of absence—recognising that the misery was really the season before—were 1961/2, 83/4, 89/90. So there has been decay in the sense that the frequency of absence is occurring more often of late. Since the last war there was a good patch, in local terms, 1947-54, then 1988 (really 1987/8 when two were promoted) and then 1994-2009. Newcastle have changed leagues seven times, Sunderland eleven, Middlesbrough twenty.
That's the 'current' soccer bit over. What happens when a club enters the top division? Well, When Swansea did there were several local studies done (university money is like that) and the upshot was a figure of £58 million attributed as direct gain to Swansea.
The total economic value to Wales of Swansea's first season in the Premier League is estimated at £58.6m
1.  £50.6m of the economic benefit was generated by Swansea City, safeguarding or creating an estimated 125 jobs
2.  The economic impact on the city of Swansea was an estimated £55.3m
3.  The non-football club activity generated around £7.9m, creating or safeguarding an estimated 295 jobs, most of them in Swansea
                                                    Source: The Cardiff University study via bbc
What is this money, you wonder? Well an awful lot is from television rights. I quote from a quora answer:
... getting relegated from the Premier League will, at the very least, cost a club around £50 million. But that's a best-case scenario. It could end up costing them their very existence.
Looking for detail:
Television rights. Top division income is about £25 million (changing upwards next year); second division about £3 million. On going down, the millions go (25,) 19, 19, 11, 11, 3  as the League has a 'soft-landing policy' that adds in the 16,16,8,8, unless the club goes back up again. This affects the next point...
Player changes. Some players will be sold to balance the books, some because they refuse to play lower division soccer. The first point encourages them to stay for a recovery season. Since a promotion season includes a lot of winning, that is surely attractive, particularly after the previous season of defeat. 
Fine differences. The difference between a division change and remaining is very small; look at Sunderland escaping relegation in 2014/5 and Middlesbrough failing to be promoted at the same time.
Changing divisions makes money Relegation's emphasis on each match also can draw more fans to the league at the end of the season. It is true that a game has to have some importance to draw fans, but that importance need not have anything to do with winning the league title. The annual English relegation battle often generates more revenue for the teams at the bottom than the ones at the top as the season concludes.

But the following season is not so good. Regarding crowd support, I would like to give examples, Wolves' (Wolverhampton) crowds have dropped by 20 percent, Bolton's by nearly 30 percent and Blackburn's almost 40 percent in the Championship in 2012-13. That loss is offset slightly by the increased number of home games in the Championship, but relegated clubs can expect a loss of several million pounds over the course of a season out of the big time.
Sponsorship Selling sponsorships and advertising and attracting corporate interest all becomes much harder once you're no longer part of the Premier League circus. Sponsors often have "relegation" clauses in their contracts with clubs that sees them pay less in the event of the club going down. Add all that up across the commercial board, and you're looking at a loss of up to £4 million.
Yeah, but what about the local economy?  I found this a hard one to answer, but offer these excerpts from an longer article in the Evening Chronicle (the Newcastle 'Chronic') :
Recent figures showed football tourism raked in more than £22m for North East coffers.
That is because last year 26,456 overseas visitors came to the North East for a football related-trip, spending an average of £855 per person - which works out at a total of £22,619,880.
Sarah Stewart, chief executive of destination management and marketing agency NewcastleGateshead Initiative, said: "Premier League football is a popular reason why people choose to visit NewcastleGateshead and the wider North East, especially from some of our international markets, but it's clearly not the only factor. Shopping, major events and our evening economy all play a part in making NewcastleGateshead an attractive place to visit and we know that football-specific trips actually only account for a small proportion of overall visits to the region.
"It's also worth bearing in mind that no matter what level our teams are playing at, we still attract visiting fans and supporters. In fact, the last time Newcastle United was relegated weekend hotel occupancy levels across the destination remained consistently strong."
The economic hit of relegation would most likely be felt most by the club itself, who would miss out on at least £100m in TV revenue when next season's Premier League TV deal kicks in.
So perhaps the ancillary effects on food and drink, the hotel industry and transport are small in comparison to the wider economy. What then about local spirit? In an environment where local unemployment has a history of being chronic (16% in Tyneside all through my formative years), enthusiasm to go to work is a significant factor, we are told. I went looking for supporting evidence and found this from SIRC 
The results reveal that sport—and conversations between staff and customers, managers and staff, men and women—can have a positive impact on boosting morale and improving mood, motivation and productivity in the working environment.
63% of men and 52% of women said that sporting success (i.e. their team winning) has an impact on their approach to work. 
47% women and 40% of men said that sporting success lifts their mood and makes them more productive in their jobs. 
A fifth of men said sport increases their motivation at work compared to 12% of women. 
Only 3% said that sporting success is distracting and makes them less productive. 
Oh, good. So when both Newcastle and Sunderland go down, and Middlesbrough doesn't quite make it through the play-offs to go up, the whole of the North-East will be depressed, crying in its beer. That'll last as far as the next season when at least one will go up, of course. Recognising which one rises will be a battle, but the other teams in the Championship won't enjoy going to Tyneside.
And, I suspect the government will find its Northern powerhouse somewhat weakened. This far from London (much the same as Cornwall) we don't tend to trust political words much, but I fear that we'll be letting down our end because of the football, odd though that may seem.
For those who don't live in the North-East and so maybe don't know, football is an equivalent to church. I kid you not: there is far more emotion, more passion, more testing of belief in (following) the football here than any amount of churching, and the numbers following the local team(s) is far higher across all religions (the non-soccer ones). I don't need to test that statement, it is self-evident.
DJS 20160330  Mother's birthday, if she were still with us.
as yet this is the second draft, since the first lost itself as I switched machines. Damn, but probably my fault, not Apple's.
20160419 I noticed I'd missed a trick: Newcastle Falcons, our local rugby Union team, looks likely to be relegated too. The Falcons are (wiki entry) currently the only professional rugby club in north east England, having been out of the Premiership just once, the 2011-12 season.
20160520 and in the last two matches Newcastle blew it and Sunderland rescued themselves. Middlesboro' won their division and (this time, not like last year) will go up. So there will be two North-East teams in the top division still. This week the FA is talking about reducing the fixture list, which means reducing the size of the premiership really, since that is who has the most to gain from fewer games. In which case, one of the NE teams will be squeezed out a good deal more often. As for the Falcons, they seem to have escaped in the same way as Sunderland; they were indeed next worst to the team relegated. Mind, the descent might make Newcastle's owner spend money instead of, as is claimed, using the team for advertising for his sportswear brand. Which in itself makes one question what a team is for, what it represents and how that could be different depending on your perspective. It would seem that in this case, the money situation has little bearing on the sporting one. That needs to change for the sake of the religious component of the following here.
A frequent question to me in China would ask which (soccer implied) team I support. I have never been to watch a match in Britain. I followed BenFica when living in Portugal, going to many matches; but then I'd met many of the team at my first such match (going back to Lisbon on their team bus, would you believe). Living in Tyneside, I am sensitive to the effects of the result on the streets of the city (any of the three, in my case mostly Newcastle). The people I ran with 2014/5 would often discuss the team situation, with numbers supporting all three (each of the three is perhaps more helpful) being quite well spread.
Site List (perhaps Cite list?)
http://www.sirc.org/publik/sport_and_the_workplace.pdf
http://www.chroniclelive.co.uk/news/north-east-news/newcastle-united-relegation-would-huge-10997555
http://siepr.stanford.edu/research/publications/economics-promotion-and-relegation-sports-leagues-case-english-football
http://www.bbc.co.uk/news/uk-wales-south-west-wales-20895147
http://www.kcbusiness.co.uk/content/newsletter-articles/view/premier-league-football


¹ Since 1992, Premier League ("the Premiership"), Championship, League 1, League 2, National, then regional leagues. See here. and here.
² Soccer not played 1915-18 and 1940-45
2022 edit: In the 2022 season it looks as though Newcastle may drop, in which case we'll have another misère 2022/23, with no NE teams in the top flight.