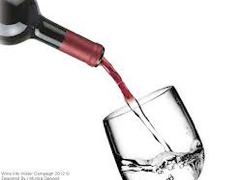 Over the last three years I have collected wine from various sources. It became the habit to supply wine to the Sunday staff meeting in the Boarding house and between us, Martin and myself kept this up for most of the weeks in term for that time. I may have supplied two thirds of all of that, which might amount to six cases. Thus the habit was created to buy a bottle when the opportunity presented itself, and a case if a really good offer or opportunity came by. Examples would be while in Roscoff waiting for the ferry back to Plymouth, or in a winery in Francshoek in the central Stellenbosch, or just by chance in a supermarket. Add to that joining a wine club, which provided a case of varied wines every quarter for under £70 and you have a reasonable number of bottles in short order. I had the habit of transferring bottles into single servings of 250ml (having bought some of the small bottles at Tesco) so that I could enjoy just enough of an evening, and so also began a drinking habit. Not a dangerous one, but just French enough to claim that the arteries couldn't be hardening because red wine in moderation is 'good for you'.
So it was that on departing Plymouth, the dungeon collection still amounted to six cases. I shared most of one between Martin & Mary and Jess & Pete and, having decided to send a mountain of books to China, reasoned that I might as well take the wine with me. That which I had drunk in China in the April before was palatable vin de pays and I reasoned that having a supply of other (not so much better as different) wine might help friendships begin.
The information available said quite clearly that wine is taxed on entry to the country, but implied that the tax was different depending on the port of entry, as the tax was applied by provincial authorities, not national ones. No mention anywhere of how much the tax might be, but basing my thinking on British values then even a 100% tax would be just about acceptable. The tax varies also with the alcoholic content, particularly from 12% to 15%. I think that is what defines a wine, as I discovered that all mine fell in this bracket. I wrote an inventory for the port and customs authorities, detailing the source country, the % alcohol and the value, all as required in the paperwork.
The wine went off to the boat with everything else on 18th June. In rapid succession I lost my residence (and hence any toehold in Britain including an address) and my gorgeous car. I arrived in China on the 1st August; with significant help from Xiaolan (which translates wonderfully to the Geordie familiar 'petal') I acquired a residence permit, a foreign expert certificate, a work permit, an apartment, and mountain of bills to be paid with no actual income, only the promise of it. The air ticket out was purchased by my employer, but nothing else has as yet been paid although at the time of writing I have been in the country for two months.
On about the last week of August my petal colleague took me next door in Xi'an to the Customs Office. Declaration House, it says on the outside. A large, spacious building with a grand frontage, this lies on the corner of one of the larger crossroads in the Gaoxin ('high tech', literally) area of the city.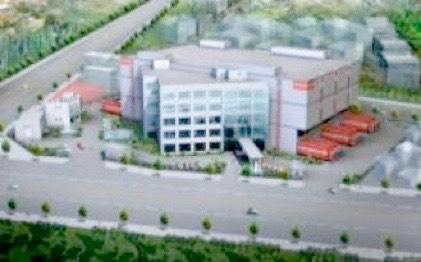 The space in front is used for those calming physical exercises considered stereotypical of the country, generally performed by the older generation and in this case most get changed into silk-style pyjama suits for their morning ritual. The staff that work inside may include the exercisers, but only the younger end of the age range are visible as officers in the foyer. Entry to the building is easy and it is very similar to a bank in that there is a long counter and supplicants are seated or stood on one side with the customs officers generally sat sideways on the other side. Computer screens are below desk height, there are pillars galore in the hall and the impression is quite grand. Inevitably in China, there is no queuing worth the name and service is acquired more by intrusion than a little politeness. Thus when you think you are being served there will be a succession of interruptions by people who march in and demand an answer, generally in a voice that in Europe would collect general attention including from the security guard and probable rejection from the building.
My vital assistant escorts me to the rather pretty lady who is dealing with my case(s). We work through the inventory of 115 boxes that went onto the boat understood to now be in Tianjin, perhaps), a port on the coast not too far from Beijing. She has been working her way through the list (as translated by Petal) and has extracted those items that cause concern. The list goes down dramatically when she decides the books are not to be taxed. We (meaning she and Petal) have had several conversations on the phone and this should be the significant one where the tax is declared. Declaration House, verily. My several boxes of computers whole and in part are misidentified as screens, or vice versa, and one is declared to be a hi-fi. These are steadily corrected and transcription errors are removed so that the list is at least understood. That a computer might have two screens is very suspicious. That I do not have a hi-fi is also suspicious. It was a good thing that we spotted that, since the tax on a computer is 20% and on a hi-fi, 75%. I notice that the units of size and currency have been lost on the form and comment in clear language that this is so. The wine list is presented as a problem until I point out that 75cl is not an unusual volume but a standard bottle, 75cl = 750ml, that the cases are numbered and the list is declared by case – it is just that they can't read numbers any more than I can Chinese. No knowledge of the units, no knowledge of wine (except it must be taxed; it might as well be jewellery for all that anyone cares).
Facts: there are, on this day, about fifteen RMB (or  ¥,  yuan) to the £ pound, so ten to the € Euro. The maximum tax on anything in Britain is still less than 100% and a 90% tax is considered extreme and usurious. The tax in China on wine is levied on alcohol content by volume. I have drunk wine in China at 100 to 200 RMB per bottle and noticed one of the bottles also in my collection in the supermarket at about 250 RMB (and since seen at 180 elsewhere).  I am well aware that wine in a restaurant will be between 100 and 200 RMB.
What, then, am I to think when the tax is declared to be 500 RMB? You misunderstand; that is per bottle. Each and every bottle is to be charged at 500RMB. That makes 30 thousand RMB or about £2000. My little assistant can't cope with this number – it is not so different from what she is paid in a year. The pretty customs officer shows me the book as I claim there must be a decimal point lost. We are slowly convinced that this is not so, but there is no answer to the observation that I buy the same wine in the same city for a quarter of the tax – so someone is being corrupt. That would be one of those oh-so-common times here where there is no answer without a loss of face, so there can be no answer. Or else yet another meaningless "yes". That I propose to refuse to pay the tax is met with a meaningful look (not interpreted) but no comment. I explain that her colleagues in Tianjin or Beijing or wherever had better drink it or bin it, because I am not paying £2000 to bring the wine across the border. That this is turning a 100¥ bottle into a 600¥ bottle. One or two of them might be worth 200¥. I did expressly say that her colleagues should open the bottles and empty them into the sea; she appeared to understand only that I was upset – Xiaolan explained that I meant it as a conditional statement, if... then...
My little helper really can't cope with these numbers. The tax on all the computers comes to 2000¥, under £140, partly because of the units being lost, so maybe it should have been £2000. I have that sum of 2000¥ in my pocket, as it happens. Not that anyone is asking me to actually say or spend anything, it turns out, just to hear the declaration. Now I understand the name on the front of the building. I am not arguing with the numbers; there is no point. I have seen the official book (which means what? I can't read the script that goes with the numbers).
So the sailors can tip the wine into the sea. The customs officials can turn wine into water. This is Biblical; it is Epic. Whatever the opposite of a miracle is, this is it.
Here endeth the lesson.
Or does it? It turned out that the ship was not yet docked, but barely into the Indian Ocean, leading me to wonder what size it actually is: a coracle? Now, in the last week of September, My passport's presence has been demanded in Beijing by the removal company. This is against all the Foreign Office advice I thought I had read, which I understand to say to treat your passport the same way as your credit card and not let it out of your sight. Apparently my choice is to send the card or go in person as its chaperone. That doesn't mean I am right, it only indicates what I think is so. The situation—making the import of anything so very complicated—illustrates the protectionism that the US complains about, not that the Americans are so very different with imports; I am looking forward to an informed discussion with Business Studies students on the topic. It is easy to bring money in and goods out of China; the two opposite moves are made distinctly difficult.
Colleagues are surprised that I am not interested in the state or position of the boat. Hoagy would agree with me: the information is of no consequence. When the stuff arrives, I will deal with it. Since no information is worth the paper it has not been written on, there is no point doing any planning. It will arrive when it does.
Is the story over? I do not know: when the tax is paid and when the goods arrive, with or without the wine, I may believe the saga has come to an end. I am not comfortable with the prospect of a move in the other direction after this experience.
Horrid, but True:
In order to persuade a Chinese person to do something, you must blackmail them. Nothing too strong, but a fairly typical example is that I refused to pay (not true, I only threatened; I want the gear and they know it) until I received an explanation. Fond hope: I was sent two attachments, both of which are shown somewhere here. The end result, demonstrating that if Crown UK sent anything to Beijing, no other response occurred, since I have heard nothing from them, is the following collection of mail messages between myself and the lady in Beijing who is working on my case. She would rightly say I was on her case, I suppose. I am not sure what this reveals: I am a bad-tempered old git (well known); communication is prone to failure (what a lot of this is about); service industries aren't that (discuss; try to use less that a ream of paper); take your pick.
I have taken some words out of the messages, but added none. I have compressed the formatting quite a bit. Cynthia is one end, in Beijing, Petal is in the office and I am clearly in the way.
09/25/2007 10:27 AM                                             Dear Cynthia:
I have just seen your last mail to.... Xi'an. I understand she has passed you the details of the customs officer we have been dealing with.
Please explain in detail how the duty has been reduced from more than 30,000 RMB to around 15,000. I am very very suspicious of the events, having been shown the mechanism by which the tax was worked out here at the Customs House.
I know none of the situation is of your doing and I recognise that you personally have been working hard on my behalf. The goods belonging to me have now been out of my possession for thirteen weeks when the original agreement was that the whole process would be over in six weeks, delivered to me at the beginning of August. This is not good.
My situation was, I thought, well explained: I will not pay 30,000RMB  for wine when the tax should have been explained to me as being over 100% of value before it left British shores. I will not pay for it to be sent back to the UK, as the situation is most definitely not my error. I pointed out the problem before agreeing to send it, I pointed to the differences in ports of entry and I was over-ruled by people who are supposed to know better. Knowing what I know now I cannot commend any transfer at all of goods into China.
However, given what the tax should have been for the computers, 15000RMB for absolutely everything is reasonable. I have that much, but not ¥160000 without some more advance notice, as I will need to transfer more from Britain. I will make ¥15000 available this week. This could be taken next door for payment more easily than a bank transfer.
I will not proceed any further without an explanation. I cannot honestly make a payment without understanding how the number has been reduced so dramatically.
Regards,   [Petal]
09/28/2007 07:17 PM                                                     Cynthia:
I congratulate you on reducing the bill for import duty still further. However, I require an explanation how this happened, as I explained in my last email.
I have had no explanation from you. I have had no response from you using email.
I also indicated in that mail that you might tell me how the payment would be made. You have had the opportunity to make my end of the  transaction quick but you did not take it. The result is that I probably cannot move money as requested by you (i.e. tomorrow) simply because you did not plan ahead and tell me by which method the payment would best be made. Your proposed method looks underhand and improper. You have not sent me an email for many weeks, since the 5th July.
I have taken actions based on the existence of a National Holiday and now expect delivery to take place some distant weekend.
You do not understand why I might want an explanation. You really must give me an explanation in detail before I will pay money by methods which in Britain would be declared fraudulent. For the third time in this mail, I NEED an explanation, I need detail how the duty changes from 30000 to 15000 to 10451.50.
Regards,


09/29/2007 10:40 AM  [and twice more in 40 minutes]                 Dear Mr Scoins, Good day.
This is the first email that I receive from you. I never received email from you directly. From the beginning, I communicate with Ms .[[Petal]].. and I only mentioned about the import duty in my last email to [Petal] dated 24 Sept that the import duty will be around RMB15000 including the wine/alcohol, which is estimated by myself. On the one hand I want to give you a rough idea about the duty amount, on the other hand I want you to prepare enough money in case the customs requires payment urgently. I hope that you could understand it. I have attached the tax return for your reference.
We must get the container released from the customs at seaport and collect the container from seaport yard today. Many trucks queue up for container collection. I talked with Xiaolan this morning and she told me that you are close China Construction Bank. Please urgently arrange the payment to the following address.
Inbound Manager
The Crown Worldwide Group has over 200 offices in 50 countries.  The Crown Relocations division specializes in employee relocation services for multinational corporations. The company is also a leader in the management and storage of business records and provides other specialized transportation, logistics, and warehousing services for expanding international businesses.  The Group provides services to over 2,000 major multinational corporations around the globe. For further information check out our website.
09/29/2007 11:30 AM                                              Dear Mr Scoins,
It is important to note that Chinese customs regulations differ greatly from other countries and the customs offices in different location is in different way to calculate the import duty since the value is determined by the customs office where the goods will be cleared eventually. That's why that you have been told by Xian Customs that the import duty is about RMB30000 and finally the Xingang customs only charges RMB10451.50 for import duty.
If you have any questions please let me know and urgently transfer the duty.
Thanks
09/29/2007 11:20 AM                                              Cynthia:
You have not explained anything. You send me a copy of a receipt and a picture of a building. Three times. I do not generally receive email while at work and I have gone home especially to respond when I should be at work.
You have not explained how it is that the customs official I went to see in Xi'an is wrong. She was very clear that her calculation was correct. You are demanding money in a hurry when you have made no effort to make the rapid transfer of money possible. You have not adequately explained why I might wish to hurry and I have now told you many different ways that I will not pay without adequate explanation. I think something illegal is happening and I require to be convinced that everything is being done honestly. Please explain how it is that the number you are quoting is three times smaller than the official "correct" one given me here. How can there be any difference?
You have not informed me until today of the location of my goods. You imply, but do not tell me, that the container is actually in China. This would be new information.
I copy below some of the unanswered mails I have sent to Crown. Maybe you are telling me that communication between Britain and China fails to occur. I would agree with you.
09/29/2007 14:10 PM                                             Cynthia:
This written at 14:00. Good afternoon.
[Petal] tells me you have received the money. This was difficult to do since you have my passport and I cannot move money without it. [Petal] is a good friend.
I still need an explanation about the duty. In Britain and in Europe it is not possible for two equal customs officers to disagree. The rules will not allow it. One of them might have a superior argument, but that would mean that one customs officer was more important than the other. The one I met was very definite about her answer. If she is over-ruled, what use is her job?
[Petal] also tells me you are thinking of delivering next week. I will be in ............
Please be as definite as possible. I have many things to do at the same time since our working week is so very long and personal tasks should not be brought to the workplace.
I think you are doing very well under difficult circumstances,
09/29/2007 20:39 PM                                              Cynthia:
Good evening. 
The money is transferred, with complications at this end. Judging by the time stamp on your reply, it may be a cycle of messages behind.
Assuming that you are right, for you are the one in a position to know, the logical consequence of the deliberations of the Xingang customs is that the Xi'an customs are an irrelevance and that going to visit was a complete waste of time. I do not disagree that Chinese regulations differ across the country – there is very little activity in China that makes any sense to me at all. However, I must repeat that, from a European perspective, the transactions we have gone through today have the stink of corruption about them. I am not accusing you of any underhand dealing, I am merely reporting to you the way these events are seen through European eyes, not just my own. All the little signs that we are persuaded to look for so as to detect fraudulent behaviour are here perfectly normal practice. I am constantly amazed that any business is done at all with the West. Worse, it occurs to me that the people who would agree to do business here are not fair representatives of the people that the West has to offer, but those people that all of us ordinary honest folk would do better without. How sad, then, that they are probably to be found here.
Unless you wish to disagree with my conclusions—a matter I would welcome—I consider your answer sufficient and adequate explanation.
I look forward to hearing of a delivery day and time. As I said earlier today, Wednesday would be convenient, but then so would, with adequate notice, Thursday or Friday. I am working most of Saturday and can not be in to receive goods. 
My thanks again for your efforts on my behalf,
....and the end of the story: On the Tuesday, the very day I have said repeatedly I would not be in, and having just set off with a kind and cheerful parent to visit something interesting way out of town, my new phone goes off (not with the ring tone that the display said it would) and someone called Victor is standing outside my flat wondering why I am not there. So I stop the car, clearly annoyed at a situation quite beyond my control, fail to apologise (it is China at fault, in my mind, I'm afraid) and run back the 3km to the flat. Nice guys, all delivered, and 90 minutes later I am writing this.
I have my passport back. With the passport is the receipt from Customs. This explains why so many boxes (almost all) have been opened; it says (transcribed, not scanned):-
Item                Number                Value        Rate            Total
Computer            1                    2000            20                320
Display                1                    2500            20                400
Wine                  60                      100            50              3000
Misc                    2                       100            10                  16
Computer            1                     4000           20                 320
Screen                1                     1500            20                240
Books              947                        65            10              6155.5
                               Total                                            ¥ 10451.5


You can see as well as I can that the value x rate doesn't match the total. Some utter plonker, bearing in mind there have always been 60 boxes of books, has put down 122 books. 1220 would be nearer, and, judging by the opened boxes, they have actually been counted, so 947+122 = 1069 books. They have been charged because they were not declared. If I had been asked, I would have said 1000, thinking maybe a few less. The wine is charged at ¥50 not ¥500 and was not opened. There are two identical screens and one attached to the second (older, and I could have left it behind) computer. The expensive computer was £4000 not ¥4000. I don't know what 'miscellaneous' is, but for £1 one isn't arguing.
So, in the end, the wine came in for a reasonable sum and the books, the whole point of moving everything, had the last say. They will have the last laugh, since now they are in my flat, not at school. There is still half a tonne of them.
I have four box numbers missing, four. I have no idea what still works, but I cannot see myself making any claims, given the performance to date. This file is revenge enough, unless the big computer doesn't work.
Just before we shook hands as he left, Victor asked me to fill in a customer satisfaction survey. I have no complaint with any of the guys who fetch and carry. The organisation stinks. Yes the gear arrived, but communication has been absolutely awful. Things that might be promises – not one was upheld; news as to progress – none; estimated delivery – silence; information from me to them – ignored or unanswered. This is not a recipe for success and as far as I am concerned, Crown Relocations does not deserve any business, not without a serious shake-up of its personnel. That it is one of the bigger firms (not) providing this service is depressing.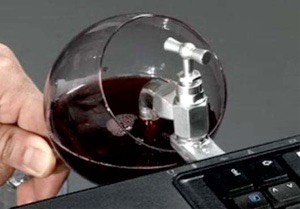 DJS 20070929
edits for typos 20121007
Related stories, Reasons, Moving, Four letter Words
If you haven't seen it, may I recommend the USB wine gadget, which you may find on Youtube in, of course, French.  or here, with subtitles. https://www.youtube.com/watch?v=CRL1SeTJ1rk