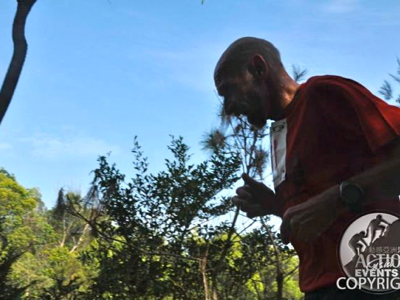 I was looking for an alternative to running the Wall race in Xi'an, for two reasons – it's an expensive trip to make and she doesn't want to do it. I found races in Hong Kong: I even found one in the right period to help with visa stamp collection and just about right to re-validate the visa before trying to renew it. The entry included a bus trip to the start from various pick-up points in HK, and it included delivery back to transport services afterwards. So I paid the late entry fee, paid for the second bus ticket – all on the UK card via the internet. Herself booked hotels for what we hoped would be a pleasant weekend in HK. To make the bus easier, we stayed on the Island for the first time – usually we stay near the main station. We used the same hotel chain.
The train from GZ to HK is a frequent, high-quality service. Getting to the station is a little harder, more so with luggage. We stayed one night in GZ near to the right station – this coincided with the opening of the Asian Games, so the hotel price leapt and the city was pretty full. GZ hotels like claiming that the city is 'full', for they are allowed to double their prices – literally. Pleasant enough, and the food places had not doubled their prices similarly. The Station mall proved to be a good place to eat and the associated shopping mall is huge – I have seen nowhere in Britain of a similar size, and this is entirely underground, where the temperature can be kept at a civilised level.
Crossing the channel to the island can be done in many ways; bus, ferry, train, metro, car, etc. Herself decided to buy a multi-purpose travel card, which proved to be a good idea. We scoped out the location of the early morning start (the bus stop at the metro [MTR] station). Sure enough at some ungodly hour the next morning there was lots of business for McDs and a load of fit-looking people were waiting for coach. About half are visibly not asian.
The offered races as advertised were over three distances, 5, 11 and 21 km. The course description on the net said 'pretty flat' for the two shorter ones and used the word 'wicked' for the long one. So I opted for the 11km race in place of the 14km in Xi'an. Herself opted not to run at all. The map offered on the net was far better than Google Earth's view of the same ground. The accessible point in the 'park' left some rolling ground down to a reservoir and the map clearly showed the trail following the shoreline closely, looking like a fjord shoreline, as you'd expect with a flooded valley [which might be a ria, technically]. This eventually proved to be a longer path than expected, at least 2km longer than the course measurement, with a nice sandy surface and occasional views of the water, while at the same time giving the runner little idea how far away the next nearest runner might be. The two longer races shared a lot of route, including all of the lakeside and the inevitable climb (300m, perhaps) back up to the start point.
One was required to go collect numbers and race shirt from a bar in town. Wyndham Street looked really close to one of the stations, so we walked with our weekend bags rather than go to the hotel first. Ah, but HK has hills, and I end up carrying both bags up steps for what must be twice the longest run of climb in Newcastle or Bristol as we toil to the relevant place. It wasn't hard to find, just hot work. HK has not much in the way of pavement, is full of traffic and, while that traffic is well behaved, being basically British, there is still a lot of it. The pressure to use all available space results in crowded roads, narrow pavement and rather more use of the third dimension than one is used to elsewhere.
I collected my number. Well, actually I didn't, because someone else already had: this demonstrates the reading of western characters by orientals – two or three only. The guy who took my number did not collect the bus passes, so the helper who supplied him was evidently not reading much of the paperwork at all. Perhaps he thought 257 was a lucky number? I collected 311, apologised to the small crowd for the delay and we went off to find the hotel – going downhill was much more pleasant.
The hotel room was expectedly small but well appointed and quite satisfactory for two nights. Exploration of the area followed, including some shopping forays and finding where to go on the Sunday morning.
The coach trip to the start was a good demonstration of the excellent HK driving habits, especially when compared to those of the mainland. A 50-plus seat coach negotiated roads of Lake District width with ease. The drive took us back across the water by bridge, off to the west and actually quite close to the border at ShenZhen. The parkland being used is (still) typical of Chinese highland; densely tree-covered hillsides, short views, a great variety of plant life and a fair degree of military encampment. I failed to establish directions of the paths at start and finish, which I usually do so as to recognise the finishing half-mile.
The collected runners are a fine-looking group of people, singularly so. HongKongese demonstrate a mix of nationalities which generally looks good, though not quite as good as the Filipino women on display in town. I heard at least three unexpected languages while waiting for the start.
The website had said there was a quota of 500 entrants – there were at least half that at the start, quite possibly 350. All three races began together. The organiser – I could only just hear him - indicated that the shorter race would turn off after 500m. Since this took 5 mins to reach, I was given a clue as to the measuring difficulties – 5 minutes is easily more than a kilometre. The course to this point was concrete road just wide enough for two cars to pass. Once the 5km course left, I could see ahead for the first time, realising that I was at the back of a group of 30 or so. I was feeling very comfortable at this point, and grabbng any chance to look at shirt-fronts for the red numbers of my race and the black of the longer route. I saw no reds, so must assume they are ahead already. The one guy I found a red number spotted my red number first: I said I thought he looked very comfortable and his reply was that he'd got lost last year so he was starting a little more easily this time. I left him on the next little downhill; this was fast for 21km running, so I'm thinking these guys are really good and thuis confirms that there are red numbers somewhere in front.
The road was replaced by sandy track – the 'trail', I suppose (I missed the moment of the turning, just following the feet in front – and suddenly one was down to running in line as the track twisted and turned in three dimensions. The steep sections up and down are stepped, usually with concrete – as happens all over China and described in an earlier essay. Already the steps are steep enough for walking to match running, as I realise when one pair of youthful heels being waved  in my face (at that level, thanks to the hill) are still running while I am keeping up by walking. I even have time to think, "He'll be very tired later". I assume there was a woman in front of me at this point, but did not see one.
The trail reverted to concrete going downhill. I like downhill in races, so, feeling very comfortable, I worked my way to the front of the group I could see. An easy stretch, for me. At this point in a UK race I would be a kilometre behind the leaders – we've done about 15 minutes, so 3-3.5km; I race at 4mins/km before allowing for hills and the good runners back in Blighty run at 3, so you can see how the numbers work. Good runners have (even) less trouble with hills, so the terrain usually works in the favour of the better runners. The feeling you are left with is that everything works in their favour.
Just short of the bottom of the down hill are three students in day-glow jackets, with little signs saying 11 and 21 pointing in opposite directions. I take the left down to the water, realising that the guys right behind me are all going further down the road. Judging by the sleepy reaction from the marshals, the front guys are a long way ahead.
This new trail is like the previous bit for a while and then it settles down to basically level but twisting left and right as it follows the edge of the water, which is generally 5-10 metres vertically below to my right and hidden by the trees between the trail and the water. I can't hear anyone close, I can't see anyone ahead – but I can only see as much as 50m ahead rarely. The trees are mixed and include spruce – and bamboo, later on. This is typical forest as experienced in southern China, a mix of trees that don't seem to belong together at all.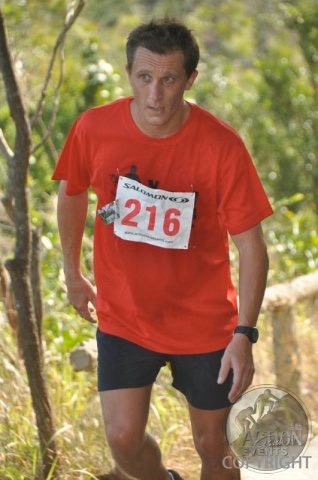 I pass 25 minutes, when this race is expected, for 11km, to take 45 before I allow for the hills. At 35 minutes I find a trail coming in from the left. I haven't seen a sign for the route since the two courses separated, so I am suspicious that I have done the unforgivable and lost the route. A good-looking girl in running kit is coming towards me from this side track – and she has a red number. So my first assumption is that since she looks really comfortable, she's in front. Then I realise she's more lost than I am. The water behind me is still wide, and I know the turning away form the lake occurs afters the reservoir has narrowed to meet one of its feeder streams. So she is wrong and the trail continues along the shoreline. At this point, the guy I'd spoken to earlier appears from where I'd been running and I'm off as if poked – he's caught up all that lovely lead I'd built up over him. He's the one who said he was starting slower this year. He looks at least 20 years younger than me and the lake is the only flat bit I saw on the map, so if I'm to stay ahead I really have to push now. 35 mins means more than ten to go, but not a lot more. So the strategy to use has to be to push hard at each corner so that he can't see that I'm trying and so that he is left thinking the gap is growing despite his efforts, not because of mine. In his position I'd be trying hard to stay in touch as it is generally easier to go quickly with a visual clue as to pace. My strategy must have worked, because at the turn away from the lake, I could no longer hear him. Talking to him, Jason, later, my plan had worked a treat: his thinking was the same as mine – young legs always catch old legs, so how could I possibly be getting away from him? Worse for Jason, another older guy caught him at a place where the path was closed around a promontory and while he has dithered over precise route, this older chap had passed him. When the route turned away from the lake, Jason still thought this second older runner (another 50 plus) was ahead of him, not knowing that in fact he'd lost the trail briefly and Jason was chasing me. Again, or still.

Picture of him in a red shirt and No 216.
The trail met another road and there was another group of marshals. As before they are stood on the inside of the turn, not the outside where they should be, so I shout and point, while also trying to make sure I go the right way – or in this case, the left way. Uphill. Oh dear, I'm going to get caught. The fact that I've caught no-one merely says that I'm the front oldie. I hear footsteps and panting but don't dare look behind me as that is a giveaway sign to any follower that this person is ready to be passed. The next group of marshals have the same issue of placement and send me off the concrete road and back onto a narrow trail – inevitably, uphill. The first stretch is straight and I try to sneak a look at the corner, but time it wrong. I'm lucky not to trip; "Concentrate on running as hard as you can, idiot". I realise that is precisely the point; I can only go as fast as the body will let me and I'm already blowing hard. The watch says I have passed 50 minutes, so either at least two of us got lost and re-discovered the trail, or these hills are really serious, or the course length is wrong. Or combinations of those.
I have trained over just under 50 minutes to try to build up stamina, mixing that with a little speed work (I'm a bit one-paced these days) – so this, beyond 50 minutes is recently unexplored territory. The climb is bad, but my breathing is so bad I've nothing else to do but push, push, push, hands on knees, looking for the next  place where running might be attempted again.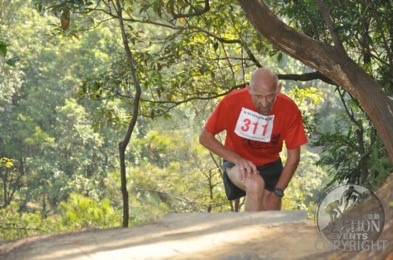 I meet a photographer, one aiming at me. This can't be far from the finish, then, since cameramen rarely go as far from the finish as they think. Two skinny girl marshals on a ridge wave vaguely to the right and I hear a whispered "not far". Having heard that in the first half of a half marathon before now, and being just on the hour, I'm hoping she is right. The trail turns to concrete road and I recognise this as the road we started on – actually I recognise the military gates, not the road. The last turn is almost a hairpin and there's the start/finish tentage. Yippee. So where's everyone else? What do you mean, I'm first? You're kidding?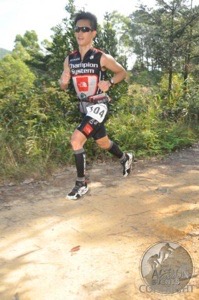 Apparently not. Jason finished two minutes later, and the next oldie, who turns out to have only just turned 50, another two minutes later. Then a 40+, who realises very quickly he has won his age category, despite having two (even) older in front of him. My time just over 64 minutes officially, so no way is that 11km. I run 14.5 on the flat in an hour on a fair day, so this is around 12.5, allowing for those horrid hills.
I find that I am soaked; even my shorts are literally dripping. I change clothes totally and am dry and comfortable by the time tenth arrives, though I miss the first woman finisher. I go shake hands and chat
with as many as I can. The first finisher (in black) of the long race comes in, looking very good indeed. He is a whole ten minutes ahead of the second guy, in a little over two hours. He probably can run 35km in two hours on the flat (check: 42km marathon in three is my best and he's a lot better than I ever was; more like 2:20 to 2:40, implying 32-36km in two hours).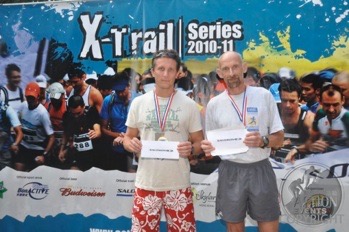 Eventually there are medal ceremonies, interviews and more camera work. The medals are very nicely made. There are medals for the first three in each race category, (so, for example, Nos. 311, 268 and 266 for the over-50s in the 11km race) and another prize to the first absolute two in each race, which turns out to be a voucher to go spend money in the local Salomon store (not yet found). So even though I was not planning on coming back to HK for a while, I have ¥1000 to spend on new shoes. Jason has ¥800. Wow. Did I just turn professional? This means I have earned more form running than from teaching, this year.
DJS   20101116
Happy birthday, Ian
Related Stories are:
The City Wall Race,    Sports Day,     On Hash     A Different Hash,  
Tuesday, 16 November 2010